Posted in
distribution
,
magazines
on February 7th, 2015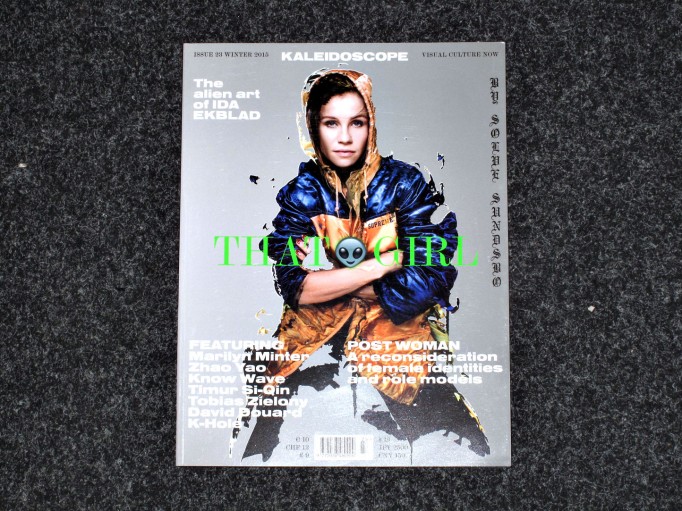 Welcome to Kaleidoscope's #23 (Winter 2015). Following the recent, successful redesign by Bureau Mirko Borsche, we are back with a brand new issue. The new formula is taking shape, new columnists and contributors are joining our ranks, and a lot of enthusiastic research went into curating the most compelling content out there.
In the opening section of HIGHLIGHTS, twelve profiles account for the best of the season: JASON MATTHEW LEE (by Alexander Shulan), DANIEL BAUMANN (by Aoife Rosenmeyer), Marilyn Minter (by Gianni Jetzer), MAGALI REUS (by Ruba Katrib), KNOW WAVE RADIO (by Alexandre Stipanovich), BEATRICE GIBSON (by George Vasey), CATHERINE AHEARN (by Tobias Czudej), K-HOLE (by Kevin McGarry), JAMIAN JULIANO-VILLANI (by Joshua Abelow), ALESSANDRO BAVA (by Francesco Garutti), ZHAO YAO (by Venus Lau), and IDEA BOOKS (by Xerxes Cook).
At a time when feminism resurges both in critical discourse and media headlines, while at the same time entering a list of words overdue to be banned, our signature MAIN THEME section is devoted to a reconsideration of female identities and role models. POST WOMAN is composed of a think tank, a think piece by Natasha Stagg and five interviews, including with Juliana Huxtable (by Andrew Durbin), Amalia Ulman (by Francesca Gavin), Judith Bernstein (by Hanne Mugaas), Massimiliano Gioni (by Pietro Rigolo), and Girls Like Us (by Felix Burrichter).
To folow, this issue's MONO section and cover story are dedicated to Norwegian artist IDA EKBLAD. Fueled by an outright marvel for this thing called art, her work is distinguished by an extreme degree of impatience and prolificness. Her shift and turns are the result of a feverish engagement with pure materiality, synthesized with popular culture and animated by alien transformations. This definitive monographic survey comprises an essay by Peter J. Amdam, an interview by Cory Arcangel and an original portrait by Sølve Sundsbø.
Later on, the VISIONS section invites the eye to an enthralling journey across almost 100 pages of visual contributions by artists, curators and image-makers, including: TOBIAS ZIELONY, "Jenny Jenny"; MR.; "Chicago": BARBARA CRANE and TONY LEWIS; DAVID DOUARD in Los Angeles; JONAS WOOD; "Alliantecnik," curated by Alessio Ascari; TIMUR SI-QIN, "Premier Machinic Funerary"; and GRAHAM LITTLE.
Lastly, the closing section of REGULARS features our insightful columns on the past, present and future of art and culture: PRODUCERS features Carson Chan's conversation with Ballistic Architecture Machine; in FUTURA 89+, Hans Ulrich Obrist and Simon Castets interview young artist Philipp Timischl; Andrey Bold questions TOKYO's art scene as part of the PANORAMA series; in PIONEERS Fredi Fischli and Niels Olsen talk to cult Swiss designers Trix and Robert Haussmann; and in the first installment of RENAISSANCE MAN, Jeffrey Deitch celebrates the art of choreographer KAROLE ARMITAGE.
Price € 10.00
Buy it
Posted in
distribution
,
magazines
on January 27th, 2015
Tags:
Verities
VERITIES Issue four introduces a refreshed larger format and is dedicated to the theme of Deception.
Highlights of this issue include, Elaine Sturtevant in conversation with Hans Ulrich Obrist, Trevor Paglen in conversation with Ossian Ward, Victor Burgin, Larry Sultan, Slavoj Zizek and The Eternal Internet Brother-
hood.
€16.00
Posted in
art
,
magazines
,
photography
,
poster
on December 27th, 2014
ISSUE E FOUR SEASONS 2015 incl. The PROVENCE Summer Reader: After Dark
ISSUE E FOUR SEASONS 2015
Photo:
Josephine Pryde, Bra III (ISOSCELES at Ahlbeck) from Knickers, Berlin, 2014.
Courtesy Temnikova & Kasela, Tallinn
Poster size: 93 cm x 69 cm
The PROVENCE Summer Reader: After Dark is the second publication of a series of books co-published by Paraguay Press and PROVENCE.
The PROVENCE Summer Reader: After Dark takes it starting point—its body—from the kind of supplementary pocket books that are attached to the summer issues of various empire lifestyle magazines. As the title suggests, this book is a reader that gathers different—not to say heterogenous—material, by authors from diverse—though mainly art-connected— backgrounds, taking over a format known for its slippery, shallow, and entertaining content. Writings, fictions, documents, and poems come along with a suite of illustrations by Siw Umsonst. For a brief moment, this book was going to be a part of PROVENCE's (pen)ultimate Issue C dedi- cated to Criticism Now. And then … in or out. We recalled the moment in history (was it the mid or the late 90s?), when art magazines not only featured sec- tions with the best of the year, but also with the worst shows and artists of the year. It was Richard Pryor, according to Lane Relyea, who stated: "I never met any- body who said when they were a kid, I wanna grow up and be a critic." Soon the title shifted to Dark Matter, which turned criticism to social relations, but it echoed other engagements and expectations. As writing eludes the purposes of criticism, and comes to favor stories, emotions, and open air over judg- ment and in-depth studies, it was eventually replaced by After Dark. After Dark is also a series of computer screensaver software introduced in 1989 by Berkeley Systems for the Apple Macintosh, and for Microsoft Windows in 1991. It is—or was—a means to avoid switching your computer off and to maintain its functionality while not at work, keeping the system running. With the invention of laptops sleep mode in the late 90s, which made turning devices off unnecessary, the then famous Aquatic Realm, Flying Toasters, and Slide Show screensavers vanished. Many of the contributions to this Summer Reader attempt to engage a problem of their own or perform their authors' participation in the networked, social, and communicational spaces that are shared with cul- tural production at large. They bear witness to nights of labor turned into proletarian days—even though they were written for a book supposed to be read un- der the sun. Or (maybe) exactly because of that: who would dare to take a tablet or a laptop to the beach?
The PROVENCE
ISSUE E FOUR SEASONS 2015
15€
Posted in
distribution
,
magazines
,
Motto Books
,
music
on December 22nd, 2014
zweikommasieben #10 includes material with/on/by M.E.S.H., Lena Willikens, Vessel, Powell, Creme Organization's DJ TLR, The KVB, Juju & Jordash, Torn Hawk, the Golden Pudel-crew (including Ralf Köster, Nika Son & f#x), Yør, Kontra-Musik's Ulf Eriksson, and more.
zweikommasieben #10
12€
Buy it
Posted in
art
,
distribution
,
magazines
,
writing
on December 9th, 2014
Mousse #46. Edoardo Bonaspetti (Ed.)
New trimmed format for reader's pleasure.
Language: English / Italian.
(this issue has 3 different cover colors. please ask in case)
Posted in
art
,
distribution
,
magazines
on November 19th, 2014
Tags:
Jens Hoffmann
,
Lumi Tan
,
The Exhibitionist
The Exhibitionist 10
Jens Hoffmann, Julian Myers-Szupinska, and Lumi Tan
A half-century after the emergence of the curator in the contemporary sense, and 27 years after the founding of the first study of curatorship at École du Magasin in Grenoble, France, misgivings remain about the curatorial role. On the one hand, curators are faulted for being mere facilitators and cultural managers whose intrusion into the essential components of exhibition making—art, artists, publics, and counterpublics—is unnecessary, even unwelcome. (Our cover depicts Cindy Sherman at Artists Space in the 1970s, posing cheerfully as this sort of worker bee.) On the other, curators are accused of usurping artists' rightful share of self-determination and interjecting a distracting performance of their own authorship into the happy and transparent relationship between art and people. These complaints cast curators as megalomaniacs or middlemen, lackeys or celebrities, exhibition makers or exhibitionists. Taken together, these anti-curatorial postures produce an odd double picture of a figure that in one gesture arrogates and abolishes their own position.
Language: English
Pages: 83
Size: 18.7 X 26 CM
Price: €10.00
Posted in
architecture
,
distribution
,
magazines
,
photography
on November 10th, 2014
Tags:
Felix Burrichter
,
PIN-UP
PIN–UP 17 Fall Winter 2014/15 The Post-Normal Issue
Featuring: Mario Botta Sou Fujimoto Kelly Wearstler Kulapat Yantrasast Carla Juaçaba Wolfgang Tillmans + a 50-Page Norway Special and a Mies Crown Hall Prize supplement with projects by Herzog & de Meuron, Steven Holl, Rafael Iglesia, OMA, Smiljan Radic, Alvaro Siza, and Cristian Undurraga.
€20.00
buy it
Posted in
distribution
,
magazines
,
photography
on October 31st, 2014
Tags:
Asger Carlsen
,
František Drtikol
,
Gerard Byrne
,
Nico Krebs
,
Taiyo Onorato
Fotograf #24: Seeing is Believing. Pavel Banka (Ed.).
The issue entitled "Seeing is Believing" tackles the imaginary space "through the mirror" which deals with phenomena existing on the margins of scientific knowledge. Here photography plays the role of medium, documentary record, witness, and even of a means of evidence which attests to paranormal phenomena, spiritism, decadence, thoughtography ("mental photography") and so on. On the other hand, the nature of the theme also touches certain motifs of the visual arts, such as mirroring, ghost images, and trompe l'oeil, even branching into Surrealism. The issue will combine the aforementioned approaches and perspectives, hoping to provoke mediation on the relationship between the technological image and reality, and on the authenticity of the medium of photography itself.
Tomokichi Fukurai
František Drtikol
Ralph Eugene Meatyard
Ryan Thompson
Asger Carlsen
František Vobecký
Christoph Keller
Gerard Byrne
Michal Heiman
Július Koller
Taiyo Onorato a Nico Krebs
Mário Bihári a Bjőrn Steinz
Junsheng Zhou
Jiří Černický
Paul Bogaers
Emir Šehanović
Theory – Oana Mateescu
Discoveries – Katarína Hrušková, Bastienne Schmidt, Michael Borek
Language: English
ISSN: 1213-9602
€16.00
buy it
Posted in
design
,
distribution
,
fashion
,
magazines
,
photography
on September 4th, 2014
Tags:
Antonio Macarro
,
MANY OF THEM
,
Pedro Canicova
 MANY OF THEM – VOL.III [This must be the place]
A LIMITED EDITION OF 1000 COPIES
COSMIC WONDER, YUKINORI MAEDA, COMME DES GARÇONS, JUNYA WATANABE, ALAÏA, CHRISTOPHE LEMAIRE, SUSAN CIANCIOLO, CHANEL, KARL LAGERFELD, DRIES VAN NOTEN, SAINT LAURENT, YOHJI YAMAMOTO, LIMI FEU, ISSEY MIYAKE, YUSUKE TAKAHASHI, PELICAN AVENUE, JUN TAKAHASHI, UNDERCOVER, FINAL HOMME, MAURIZIO AMADEI, DANIELA GREGIS, PAUL HARNDEN, GEOFFREY B. SMALL, BERNHARD WILLHELM, HERMÈS, EATABLE OF MANY ORDERS, BLESS, MIGUEL ADROVER, ELEIN FLEISS, LAETITIA BENAT, GILLES CLÉMENT, RAYA MARTIN, OLIVIER ASSAYAS, RIRKRIT TIRAVANIJA, JOANA PREISS, CARLOS REYGADAS, COSTA-GAVRAS, MICHÈLE RAY-GAVRAS, NATHALIA ACEVEDO, ANDRÉS DUQUE, MIA HANSEN-LØVE, KHAVN DE LA CRUZ
Printed: Color – Black & White
Format: 215 x 155 X 45 mm
€35.00