Posted in
exhibitions
,
Motto Berlin event
on August 2nd, 2022
Tags:
Anna Winslow
,
Candice Nembhard
,
Céline Mathieu
,
Danya
,
Dark Advances: 'Affect Aliens' & Revolutionary Despair
,
Genevieve Costello
,
Group Show Opening
,
Jesse Darling
,
Kari Rosenfeld
,
Kwamé Sorrell
,
Lilly Markaki
,
Lou Lou Sainsbury
,
Lucie de Bréchard
,
motto berlin
,
Spiros Kokkonis
,
Toni Brell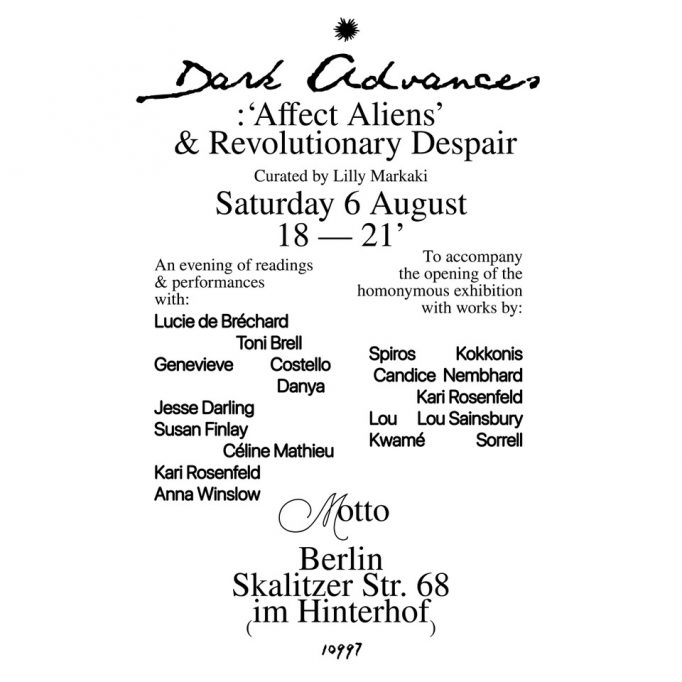 Please join us this Saturday for an evening of outdoors readings/performances to celebrate the opening of Dark Advances: 'Affect Aliens' & Revolutionary Despair—a group show featuring works by Spiros Kokkonis, Candice Nembhard (okcandice), Kari Rosenfeld, Lou Lou Sainsbury and Kwamé Sorrell.
Readings/Performances by: Lucie de Bréchard, Toni Brell, Genevieve Costello, Danya, Jesse Darling, Susan Finlay, Céline Mathieu, Kari Rosenfeld, Anna Winslow.

Saturday 6 August
from 6pm

Motto Berlin
Salitzer Str. 68 (im Hinterhof)
10997 Berlin

Please note: Lou Lou Sainsbury's new video work descending notes and sound piece The Law of Desire is Fascist made with Kari Rosenfeld and commissioned by Gasworks London will be showing all weekend as part of the installation. Visit the basement on Saturday and Sunday, between 1-2, 3-4, and 5-6 pm.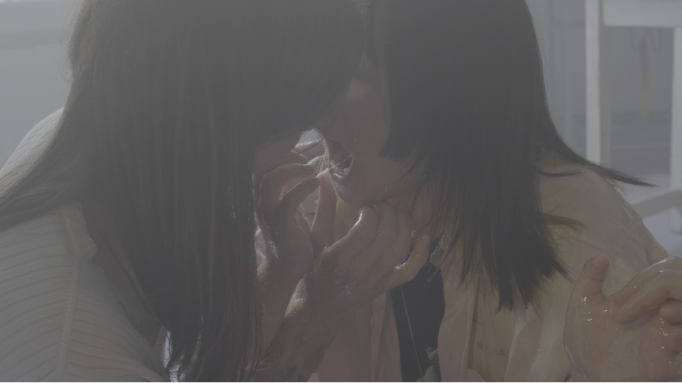 Spiros Kokkonis was born in 1992 in Athens, Greece, where he currently lives and works. He is a long-distance runner and amateur boxer at S.P.C Amarousiou. In 2016 he co-founded the artist-run space Grace/ Athens. Spiros' work is defined by a particular approach to materiality and openness to environment. Operating in a very specific context—politically, socially, and culturally—the artist creates images both influenced by and dealing with aspects of contemporary life. His surroundings being the subject and raison d'être of his practice, Spiros treats this environment as a never-ending material source. Through his process, he exploits preexisting forms and the meanings attached to them, making new images out of what has previously been made, said or done. Employing steel, aluminum, concrete, and appropriated material—a series of readymades (archives, spaces, images, sounds and objects) are being mixed, reformed and translated into images, sculptures, installations and videos that aim to imprint a personal say. A personal take on outer reality, wavering between feelings of embracement, hope, enmity and despair.
Spiros' work has been exhibited at Athens Conservatoire, Parko Eleftherias, Art Space Pythagoreion, Saigon Athens, SHED London, Grace / Athens and Onassis Cultural Centre.
okcandice (one word, all lowercase) is a writer, artist-curator, poet and musician based between Birmingham, England and Berlin, Germany. Their multi-disciplinary practice is explained as «i'm working on it», dealing with grief, love, queer identities, oration in Black cultures and archival materials.
okcandice is a co-founding member of the collective poet & prophetess and founder of the queer film series ALL FRUITS RIPE. They previously worked as a co-producer for The R.A.P Party Berlin and currently run the project okcandice archive. Today, they host the experimental broadcast Bedtime Stories on Cashmere radio and work as a freelance curator, (song)writer and creative producer.
Kari Rosenfeld (b. Houston, TX) is an artist currently based in Berlin, Germany. Kari's work is focused on ontology, political and social affect, religious and mythological narratives, image, genre, and attachment. They have degrees in American Studies and Philosophy from the University of Texas at Austin and graduated from Dutch Art Institute Masters of Art Praxis in 2021. They were a co-founder and Artist in Residence at the Cairo Institute of Liberal Arts and Science—Alexandria where they facilitated courses in theory and visual media.
Lou Lou Sainsbury is a trans artist based in Margate, UK & Rotterdam, NL, working in live performance, video, writing, installation and textiles. She identifies as a time traveller, making things that unwrite histories of living beings into mythopoeic dreamscapes, informed by queer and ecological activisms. She often works in collaboration and develops long-term research-based projects through improvisation, collective study, material exploration and cinematic processes led by sonic thinking. Her work questions how we can become better listeners, and how bodies (human and more-than-human) can trouble historicity and geography, often writing tricksterish narratives for (im)possible worlds in the realm of science-fiction and gothic horror.
Recently graduated from the Dutch Art Institute, she was an associate artist at Open School East in 2017 after completing the BA in Moving Image at the University of Brighton in 2016. She was awarded Freelands Gasworks Partnership Programme (2021/22) and has exhibited individually at Gasworks, London (2022) and Well Projects, Margate (2020). Recent performances and group exhibitions include: Whitstable Biennale (2022), Centre for Contemporary Arts Prague (2021); Yaby and La Casa Encendida, Madrid; Nottingham Contemporary; Tate Modern, London; Yaby, Madrid (all 2019); and Flat Time House, London (2018).

Kwamé Sorrell (b. 1990) is an artist, poet, researcher and writer. Kwamé is co-founder of BlackMass Publishing, an independent press focusing on re/de/contextualizing black and African social vernacular through image and text. He lives and works under the sun. His work is rooted in language and form, as a way to explore the gap between art and tradition, music and sound, space and time; constantly in transition. (this bio is subject to change)