Posted in
distribution
,
magazines
on February 7th, 2015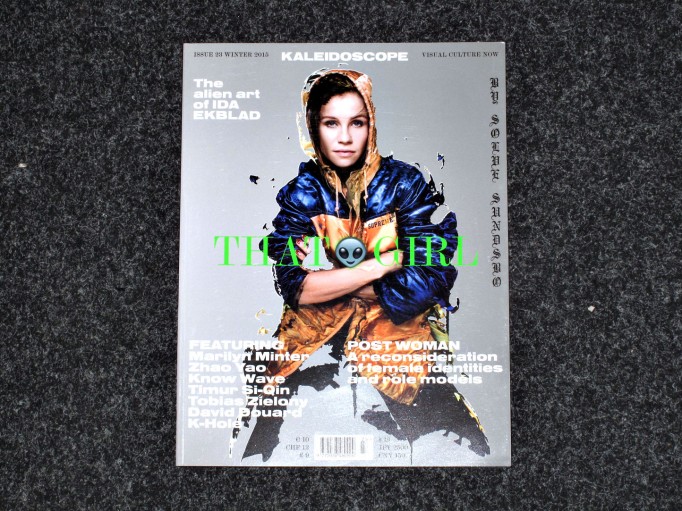 Welcome to Kaleidoscope's #23 (Winter 2015). Following the recent, successful redesign by Bureau Mirko Borsche, we are back with a brand new issue. The new formula is taking shape, new columnists and contributors are joining our ranks, and a lot of enthusiastic research went into curating the most compelling content out there.
In the opening section of HIGHLIGHTS, twelve profiles account for the best of the season: JASON MATTHEW LEE (by Alexander Shulan), DANIEL BAUMANN (by Aoife Rosenmeyer), Marilyn Minter (by Gianni Jetzer), MAGALI REUS (by Ruba Katrib), KNOW WAVE RADIO (by Alexandre Stipanovich), BEATRICE GIBSON (by George Vasey), CATHERINE AHEARN (by Tobias Czudej), K-HOLE (by Kevin McGarry), JAMIAN JULIANO-VILLANI (by Joshua Abelow), ALESSANDRO BAVA (by Francesco Garutti), ZHAO YAO (by Venus Lau), and IDEA BOOKS (by Xerxes Cook).
At a time when feminism resurges both in critical discourse and media headlines, while at the same time entering a list of words overdue to be banned, our signature MAIN THEME section is devoted to a reconsideration of female identities and role models. POST WOMAN is composed of a think tank, a think piece by Natasha Stagg and five interviews, including with Juliana Huxtable (by Andrew Durbin), Amalia Ulman (by Francesca Gavin), Judith Bernstein (by Hanne Mugaas), Massimiliano Gioni (by Pietro Rigolo), and Girls Like Us (by Felix Burrichter).
To folow, this issue's MONO section and cover story are dedicated to Norwegian artist IDA EKBLAD. Fueled by an outright marvel for this thing called art, her work is distinguished by an extreme degree of impatience and prolificness. Her shift and turns are the result of a feverish engagement with pure materiality, synthesized with popular culture and animated by alien transformations. This definitive monographic survey comprises an essay by Peter J. Amdam, an interview by Cory Arcangel and an original portrait by Sølve Sundsbø.
Later on, the VISIONS section invites the eye to an enthralling journey across almost 100 pages of visual contributions by artists, curators and image-makers, including: TOBIAS ZIELONY, "Jenny Jenny"; MR.; "Chicago": BARBARA CRANE and TONY LEWIS; DAVID DOUARD in Los Angeles; JONAS WOOD; "Alliantecnik," curated by Alessio Ascari; TIMUR SI-QIN, "Premier Machinic Funerary"; and GRAHAM LITTLE.
Lastly, the closing section of REGULARS features our insightful columns on the past, present and future of art and culture: PRODUCERS features Carson Chan's conversation with Ballistic Architecture Machine; in FUTURA 89+, Hans Ulrich Obrist and Simon Castets interview young artist Philipp Timischl; Andrey Bold questions TOKYO's art scene as part of the PANORAMA series; in PIONEERS Fredi Fischli and Niels Olsen talk to cult Swiss designers Trix and Robert Haussmann; and in the first installment of RENAISSANCE MAN, Jeffrey Deitch celebrates the art of choreographer KAROLE ARMITAGE.
Price € 10.00
Buy it
Posted in
Artist Book
,
distribution
on February 6th, 2015
Tags:
João Maria Gusmão
,
Mousse Publishing
,
Pedro Paiva
João Maria Gusmão + Pedro Paiva, with Alberto Salvadori, eds.
Texts by Mattia Denisse, Luigi Fassi, Chris Fitzpatrick, Xavier Franceschi, Massimiliano Gioni, João Maria Gusmão, Katia Mazzucco, Philippe-Alain Michaud, Olivier Michelon, Alice Motard, Pedro Paiva, Gonçalo Pena, João Ribas, Alberto Salvadori, Antonio Scoccimarro, and Marcus Steinweg
For almost 15 years now, the two Portuguese artists João Maria Gusmao + Pedro Paiva have been constructing an imaginative journey through films, photographs, installations, and sculptures that encapsulate philosophical, existential, and conceptual issues.
Produced in conclusion to a series of exhibitions—which began in 2011 with "Alien Theory" at frac île-de-france, and le plateau in Paris, by way of Museo Marino Marini in Florence, and ended with "Papagaio", 2014–15 (premiering at HangarBicocca in Milan then moving on to the Camden Arts Centre in London)—Teoria Extraterrestre is the most complete monograph to date on João Maria Gusmão + Pedro Paiva, condensing nearly four years of work and thought that have been compiled into a film cosmogony by the artists themselves.
Publisher: Mousse Publishing
Language: English (Italian and French booklets)
Pages: 256
Size: 19 x 21.7 cm
Binding: Hardcover
ISBN: 9788867491339
Price: €35.00
Posted in
events
on February 6th, 2015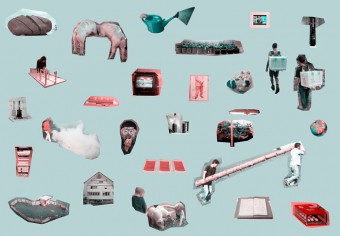 PALATTI AR AI (Moving Multiples & Palatti 2015) @ Motto Berlin
February 7th, 7pm
+ from 9pm @
Kotti-Shop Adalbertstr. 4, 10999 Berlin, Neues Kreuzberger Zentrum
www.kotti-shop.net
PALATTI AR AI (new publication!)
It is late summer, together we stroll over the hill at Birli, along the Moosbach and the Goldach, we converse in various languages, and wander through the forest. We meander. We find mushrooms in the undergrowth, stones and snake sticks. We climb over fences, cross brooks and gaze into the water. We arrive at the Chastenloch, this mystical meeting point of trails, and we drink cider. Then we go our separate ways, taking the explorations and findings of the day to the next stage (…) From: Moving Palatti by Ursula Badrutt
The artist network Palatti proudly presents a new publication – a follow-up project to the 2013 residency at the Birli. From May-October Palatti was working in East Switzerland at the house of Dr. René und Renia Schlesinger Foundation in Wald, Appenzell in the framework of the 500 years anniversary festivities and the culture project Ledi – The Traveling Stage. The artists took the experience and their individual project as starting points for the artist booklets that have been developed for this publication.
Content:
Aurelio Kopainig – Wald (some kind of forest)
Julia Mensch – Bibliothek
Musquiqui Chihying – The Political Brain Constitution
Nicolas Novali – Incubatio
Betty Ras – Peek Mountain
Barbara Signer – Mi Casa Es Tu Casa
Paul Steenberghe – Appenzeller Metzgete
Text by Ursula Badrutt – Palatti bewegen/Moving Palatti
Edition: 720.
Published by Moving Multiples, Amsterdam & Palatti, 2015. ISBN/EAN 9789078020004
With the support of: Ledi – The Traveling Stage of AR◦AI 500, Stiftung Kunstfonds, Innerrhoder Kunststiftung, Hof Weissbad, GOBA AG
http://www.palatti.net/
Posted in
Artist Book
,
distribution
,
exhibition catalogue
,
photography
on January 30th, 2015
Tags:
Ricarda Roggan
Over the past two years Ricarda Roggan collected and loaned from various museums and institutions objects which originally belonged to a key figure in the German cultural canon. She photographed them like the ceramic fish once owned by Ricarda Huch or Martin Heidegger's pocket watch. These objects remain as artefacts in collections and have no intrinsic value. They only take on historical significance when they are shown in public, suffused with an awareness of the identity of their former owners. But what will remain of an object once it has been taken down from its pedestal only to disappear again in the archives? The artist locates her photography in the gap that is created between the knowing viewer and the photographed object and asks the question: Can photography preserve and convey the original auras of these everyday objects? Apocrypha was shown in 2014 in the Echo exhibition at the Kunstverein Hannover and at the Wilhelm Hack Museum in Ludwigshafen.
28 x 21 cm + 15 x 9,7 cm
€28.00
Posted in
art
,
distribution
,
photography
on January 30th, 2015
Tags:
Alex Marashian
,
Karl Schawelka
,
Liam Gillick
,
Marcus Weisbeck
,
Mathias Schmitt
,
Michael Ott
,
Sophia Gräfe
,
spector books
Space for Visual Research. Spector Books
edited by Markus Weisbeck, Mathias Schmitt, Michael Ott
The Space for Visual Research was established at the Bauhaus-University Weimar in 2013 as a workshop and laboratory for experimental research into new graphic, abstract and visual worlds. The Space's mission is to support the exploratory urge for new aesthetics, in particular by empowering design students to create their own individual imagery. The resulting Space for Visual Research publication is a lab book, a log of visual experiments conducted using physics, chemistry, optics and reproduction technology as starting points for image production. Technical explanations open up possibilities for customized reproductions of each visual experiment presented here, while commissioned interviews and essays as well as a hand-picked bibliography render Space for Visual Research a useful reference tool for visual research generally today.
With texts by Alex Marashian, Liam Gillick, Karl Schawelka and Sophia Gräfe.
26€
Buy it
Posted in
distribution
,
magazines
on January 27th, 2015
Tags:
Verities
VERITIES Issue four introduces a refreshed larger format and is dedicated to the theme of Deception.
Highlights of this issue include, Elaine Sturtevant in conversation with Hans Ulrich Obrist, Trevor Paglen in conversation with Ossian Ward, Victor Burgin, Larry Sultan, Slavoj Zizek and The Eternal Internet Brother-
hood.
€16.00
Posted in
events
on January 26th, 2015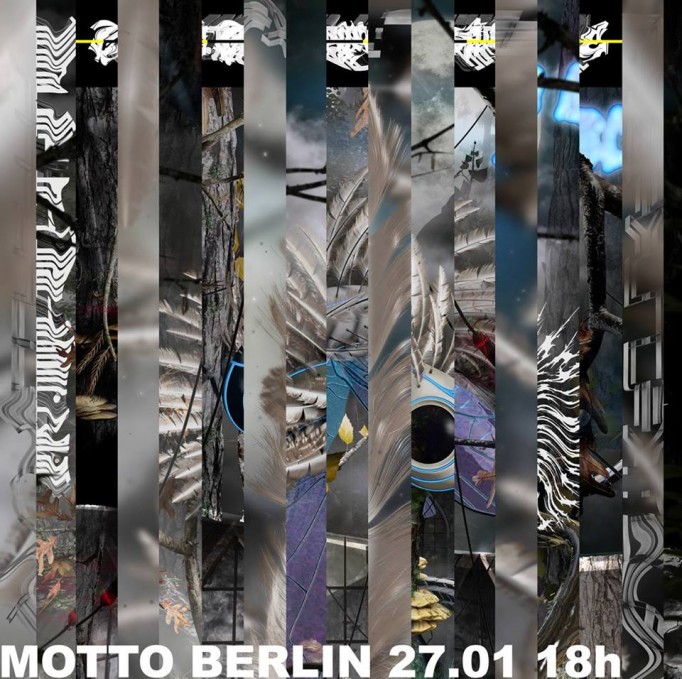 ALBERTO TROIA (Kyselina) + DAN BODAN (D.F.A.) – CATCHING FIRE POSTER + Zweikommasieben 10 launch. 27.01.2015
from 6pm
This summer after completing his new album, 'Soft', Dan Bodan asked Munich based artist Alberto Troia (Kyselina) to choose a song and interpret it as a series of images. The result is a limited edition collection of 3 wall posters depicting Troia's unique take on the song 'Catching Fire'. With the kind participation of DFA Records, the posters will be made available to Europe exclusively through Motto Distribution.
The launch corresponds with the release of SOFTY SOFT vol 2, the second part in a series of radical reworking of songs from the album. Vol 2 collects remixes from Lotic, KABLAM, Draveng, E+E and a previously released remix by Gobby.
The posters collection will come packaged with a digital edition of the entire remix series, including the yet unreleased Vol.3 featuring remixes by CFCF, McFERRDOG, Low Concept and veteran producer Howie B.
Join us January 27th at Motto Berlin at 18h to a reception featuring a DJ set by Draveng + Zweikommasieben Djs
Posted in
Artist Book
,
exhibition catalogue
on January 25th, 2015
Tags:
Group Affinity
by Binna Choi, Saim Demircan and Bart van der Heide
GROUP AFFINITY reflects on an experimental summer school that took place in 2011 at Kunstverein München organized in collaboration with Casco.
Five independent collective bodies or groups—Andreas Müller & Susanne Pietsch, Chicago Boys, Cinenova, Grand Openings, and Slavs and Tatars—headed up faculties and turned their respective self-organized practices and research and working processes into curricula for the participants.
Contributors: Liam Casey, Hyun Ju Chung, Cinenova, Marthe van Dessel, Gürsoy Dogtas, Jan van Duppen, Matthias Friedrich, Rahman Hamasalih, Tad Hozumi, Claudia Hummel, Mary Ikoniadou, Hiwa K, Eva Könnemann, Nahla Küsel, Annette Krauss, Sofia Montenegro, Andreas Müller, Susanne Pietsch, Slavs and Tatars, Tijana Stevanovic, Davide Stucchi, Jason Waite, and Paul Wiersbinski, English, 175 mm x 240 mm, 176 pages, softcover, ISBN 978-3-943514-27-8, designed by Studio Manuel Raeder
English
116 pages
17.5 x 24 cm
700 g
Softcover
€19.00
Posted in
distribution
on January 23rd, 2015
Tags:
Ariane Müller
,
Henrik Olesen
,
Martin Ebner
,
Nikola Dietrich
,
starship
STARSHIP Nº12
128 pages, english/german
Editors: Nikola Dietrich, Ariane Müller, Martin Ebner, Henrik Olesen
Contributors to Starship Nº 12:
David Antin, Tenzing Barshee, Gerry Bibby, Hans-Christian Dany, Nikola Dietrich, Stephan Dillemuth, Francesca Drechsler, Martin Ebner, Haytham El-Wardany, Yusuf Etiman, Morgan Fisher, Jean Genet, Julian Göthe, Ulrich Heinke, Judith Hopf, Karl Holmqvist, Chris Kraus, Sam Lewitt, Mikhail Lylov, Crispin Oduor Macachia, Almut Middel, Ariane Müller, Christopher Müller, Henrik Olesen, Sam Pulitzer, Gunter Reski, Mark von Schlegell, Nora Schultz, He-Ji Shin, Mitchell Syrop, Vera Tollmann, Annette Wehrmann, Lily Wittenburg, Amelie von Wulffen, Stephanie Wurster, Florian Zeyfang
D 8€ WW 10€
Posted in
events
on January 22nd, 2015
Tags:
Edition Taube
,
Stefan Sulzer


Saturday January 24th @ Motto Berlin
Stefan Sulzer
The day my mother touched Robert Ryman
Edition Taube book launch
The artist will be present and read from the book at 8pm, followed by an artist talk together with Daniel Herleth.
A special edition will be available, numbered, signed by the artist, and touched by the mother
www.editiontaube.de
www.stefansulzer.com