Posted in
books
,
exhibitions
,
fairs
,
Motto Zürich store
,
zines
on November 30th, 2010
Tags:
corner college
,
Motto Zürich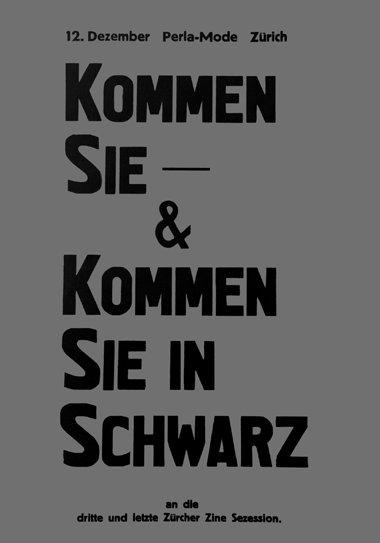 Join us at the Last Zürich Zine Sezession on the 12th of December at Perla Mode, Zürich.
More than 40 publishers are presenting their work:
Ampel Magazin, Luzern
Eric Andersen, Zürich
Asterisk, Talinn
Automatic Books, Venezia
Beni Bischof, St. Gallen
Boa Books, Genève
Café Royale, Southport
Detektiv Bureau, Luzern
Duke Press, London
Edition Taube, Stuttgart
Famicon, London
For Further Information, London
Für Immer, Zürich
Grilli, Bern
GRRRR, Zürich
Hakuin Verlag, Zürich
Hannes Gloor, Zürich
Himaa, Tokyo
Innen Zines, Budapest
Islands Fold, Victoria
King Matto, Aarau
Je suis une Bande de Jeunes, Paris
Kodoji Press, Baden
Larry's, New York/Berlin
Malheft, Zürich
Marsplastik , Zürich
Maximage, Lausanne
Me and my Friends, London
Motto, Berlin/Zürich
Multi Press, Hamburg
Nieves, Zürich
Nuts, Washington
Pipifax, Zürich
Retard Rio, New York
Rollo Press, Zürich
Shoboshobo, Paris
Somewhere Sometimes, Milano
The Kingsboro Press, New York
The Meta Press, Zürich
Turbo Magazine, Biel
HAHA, Arnheim
Westphalie Verlag, Berlin/Wien
—
In addition to the book presentations:
'Sister', by Harsh Patel
A long-time project by Los Angeles based zine maker, Harsh Patel will be displayed in the basement of Perla Mode.
'Grosi' by Walter Seiler Junior
A 20 minute long puppet show telling the story of a young man reflecting on his own life.
'Beyond modern and Postmodern'
The Work of the Hungarian artist László László Révész, by Christian Zillner
Book launch of a new title published by innen, from Christian Zillner.
There will be a conversation between the artist and the author, as well as a video projection from László László Révész.
Drawings from the artist will also be on display.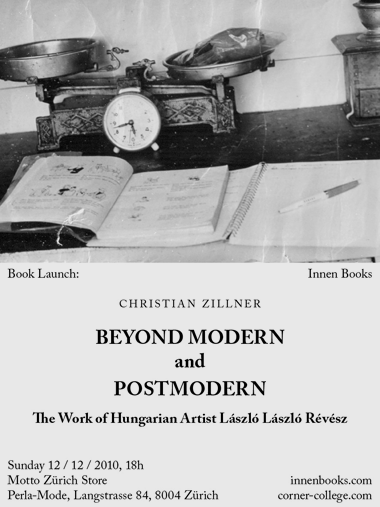 —
The project is co-organized by Motto Zürich and Corner College.
Perla Mode
Langstr. 84
8004 Zürich
Switzerland