Posted in
art
,
Artist Book
,
books
,
photography
on September 24th, 2014
Tags:
Vasja Cenčič
,
Žiga Kariž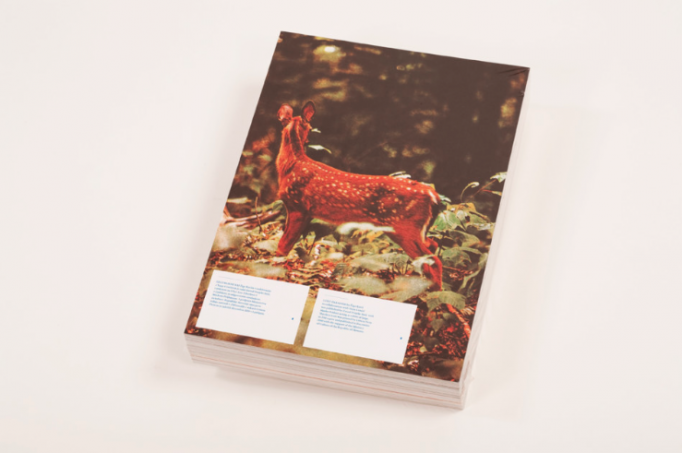 Lost Paradise. Žiga Kariž in collaboration with Vasja Cenčič. 
Lost Paradise consists only of images. Artwork signed by Žiga Kariž in collaboration with designer Vasja Cenčič doesn't' even have classic book binding. No hardcover, no softcover, no binding in the middle. Instead, it consists only of 130 leaves, wrapped in cellophane. Calling this artwork by the technical term book is therefore seemingly problematic, which is underlined by the response of the Slovenian National and University Library that has designated Lost Paradise as a book at first, but has later changed its decision.1 A similar fate has befallen Ed Ruscha's first cult book Twentysix Gasoline Stations in 1963. The book was rejected by the American Library of Congress because of its "unorthodox form and supposed lack of information".2 Lost Paradise is in fact an even more unlikely candidate to achieve book status than Ruscha's gasoline stations.
What has probably ultimately convinced the librarian bureaucracy that what lies on the table of the National and University Library is not a book or indeed any other sort of publication, is the fact that Lost Paradise is a book which contains no words save for the note on the cover. The cover foil bears a sticker which holds an extended colophon that gives basic data in two languages: "Lost Paradise by Žiga Kariž in collaboration with Vasja Cenčič was published by Zavod Projekt Atol, with Marko Peljhan acting as editor at large. The first issue was printed by Littera Picta in 250 copies and published in December 2010 with support of the Ministry of Culture or the Republic of Slovenia."3  The text reveals only basic information: the title, the names of the editor and publisher, the year and place of publication. The price of the book is printed next to this data and can be compared to the prices of illustrated books about art; therefore the book does not try to label itself as artwork through its value. Of course, save for the title, there is also information about authorship, which is the only relevant and important piece of data for understanding of the artwork.
€40.00