Posted in
art
,
books
,
design
,
events
,
poetry
,
Stores
,
writing
on November 4th, 2013
Tags:
Paulius Petraitis
,
TLTRPreß
,
X Marks the Bökship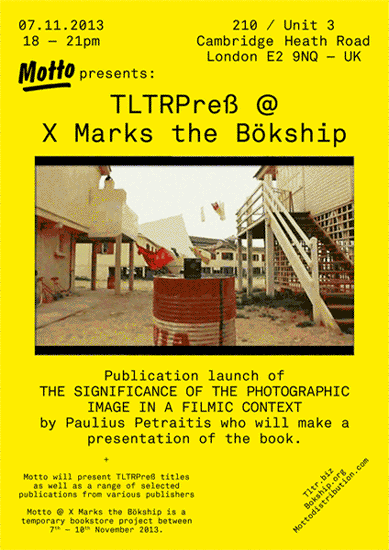 Thursday 7th November
Motto presents: TLTRPReß @ X Marks the Bökship.
Inc. Publication launch of The Significance Of The Photographic Image In A Filmic Context by Paulius Petraitis, accompanied by a presentation by the author.
Motto will present TLTRPreß titles, as well as a range of selected publications from various publishers.
18 – 21h
Motto @ X Marks the Bökship is a temporary, accommodated bookstore project which is open daily from 11am, 7th – 10th November 2013.
X Marks the Bökship
210 / Unit 3 Cambridge Heath Road
London E2 9NQ
UK