Posted in
events
,
history
,
illustration
,
Journals
on August 17th, 2018
Tags:
Alexander Schellow
,
Babak Afrassiabi
,
Corinne Diserens
,
KAO Jun-Honn
,
Leah Whitman-Salkin
,
Nasrin Tabatabai
,
Nida Ghouse
,
Pages magazine
,
Paola Yacoub
,
Walid Sadek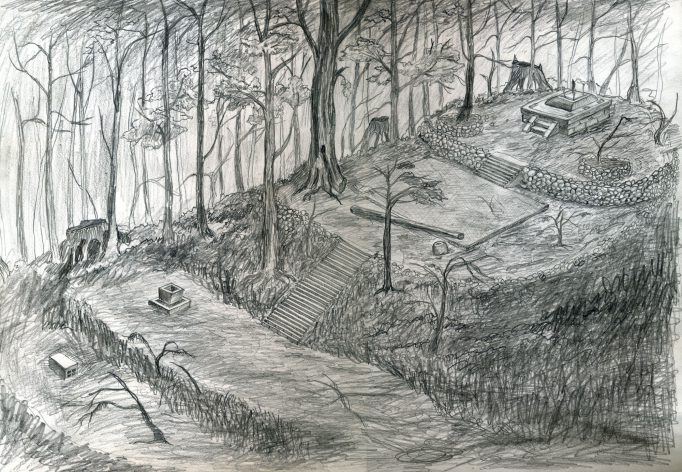 With KAO Jun-Honn, Pages magazine—Nasrin Tabatabai and Babak Afrassiabi, Walid Sadek and Nida Ghouse, Alexander Schellow, Leah Whitman-Salkin, and Paola Yacoub
An open bookshop and a reading area will be organized by Motto Books consisting of curated
selection of books that are integral to the ideas discussed
Thursday, August 23, 2018 / 2pm – 9:15pm, full programme below
Haus der Kulturen der Welt (HKW), John-Foster-Dulles-Allee 10,
10557 Berlin
World cultural paradigm shifts not only effect social configurations but also the state of artistic production. One of the main concerns are the changing conditions of hospitality and openness to the vitality of artistic and intellectual life. What are the possibilities to foster an extended intelligibility of artistic engagement and what are the threats for artistic expression in different political contexts?
In experimenting with modes of engagement and cultural translation, multiplying perspectives, and reflecting on forms and acts, this encounter Artistic gestures and practices of thought—writing, drawing, and publishing will endeavor to activate the power of arts and of practices of thought. Doing so, it questions their modes of presentation and public reception in diversified contexts and networks of knowledge, where the conditions for the transmission have changed significantly.
Exploring the construction of symbolic and artistic spaces, necessarily heterogeneous, where experimentations and ideas are shared in direct relation to artists and writers' practices, researches, and publishing projects, it will be conducive to formats that authorize great complexity, including editorial modalities or discursive configurations.
FULL PROGRAM. Free entrance, in English
     14:00  Welcome note by Annette Bhagwati (HKW)
     14:10 KAO Jun-Honn
(in Chinese with simultaneous English translation)
Through walking, filming, drawing and writing, the artistic research and practice of KAO Jun-Honn focuses on issues about economical and territorial transformations in Taiwanese contemporary society, and traces of colonial spatial politics and repression structures. The project A community still unwritten by history deals with inquiring and writing about the Daoboushe (Daobou tribe) indigenous community who once resided in the mountains on the outskirts of present-day Sanxia District in New Taipei City. The community endured the tragedy of the Japanese Governor-General of Taiwan's "Five Year Plan for Barbarian Management," where the Japanese government ordered police and military forces to obliterate the community in the Daoboushe Incident. The few surviving community members were relocated to the mountains of present-day Fuxing District in Taoyuan, with their ancestral land taken over by the Japanese Zaibatsu Mitsui Corporation. KAO with a team explored the area in an effort to excavate relics that remain from the Daoboushe Incident of 1906. The project is part of his recent book Notes on Traversing: Mountain Warfare, Empire and Images of Taiwan (after the book, Notes on Traversing Taiwan's Central Mountain Range, written in 1914 by Japanese officials on the Japanese army's conquering the indigenous tribes of Eastern Taiwan).
The book will be published in English by Motto Books. KAO Jun-Honn is an artist and researcher living in Taipei who received in 2017 from Tainan National University of the Arts a PhD in Art Creation and Theory.
     15:10 Break
     15:30 Alexander Schellow
Alexander Schellow's practice has its basis in reconstruction through drawings from memory. Engaging in different situations (the complex urban and social texture of Tirana, Albania, Marseille, France or Taipei, Taiwan, among others), he walks and experiences them, focalizing his gaze on details. The moment of drawing comes later; a few months after the direct experience, back in his studio, Schellow explores his memories, and starts to create complex, spotted drawing-structures – point for point, focusing on actual situations/ visual surfaces he experienced in the past. As in the artist's words: The practice of reconstruction, sometimes complemented by a set of intentional manipulations (in the form of spatial interventions, for instance), can be used as a means of research, for example in urban environments. Using one's own perception as a possible point of departure, one can examine and figuratively 'document' concrete spatial and temporal references of bodily and perceptive experiences within specific contexts.
Alexander Schellow is an artist living in Brussels and Köln. He is Professor of animation film at erg, Brussels.
    16:20 Leah Whitman-Salkin
in dialogue with Alexis Zavialoff, founder of Motto Books
Leah Whitman-Salkin's practice as an editor is focused on the collaborative aspects of editing, with her work exploring translation, the space of the visual and the written, and the process of making public through publishing. She is the founder, with Simon Battisti, of 28 November, an experiment in making community space, alternative distribution, and publishing practices through a bookshop and reading room in Tirana, Albania. In 2016 she was the curator, with Simon Battisti and Åbäke, of the Albanian Pavilion at the Venice Architecture Biennale—an editorial project on translation, music, and emotive spaces. She is deputy editor of Harvard Design Magazine, and former editor at Sternberg Press. Her talk will reflect on the economy and ecology of real and imaginary spaces, and the translation, both in thought and language, of desire, place, and making public.
    17:10 Break
    17:30 Paola Yacoub
Paola Yacoub is an artist based in Berlin and the founding director of ARP—Artistic Research Practices at the Lebanese Academy of Fine Arts in Beirut. In promoting the relevancy of the arts, the program ARP proposes an active platform of inquiry of contemporary practices offering the necessary conditions for pushing forward artistic action and new pedagogical perspectives, exchanges among artists, writers, architects, critics and researchers from various fields (arts, sciences, philosophy, politics), as well as the diversity in the performance realm. It is engaged with ethical, social and political questions surrounding artistic and editorial practice.
Artistic works from the 2000s in Lebanon were generally part of the post-conceptual movement. One of the main inquiry conducted at ARP defined it as a field of application of a norm: the permission to remain indifferent to the agents' intentions. We postulated its dissolution. Editorial practices have a strategic function from this point of view as they engage intentionalist or anti- intentionalist positions. Examples will be presented.
Paola Yacoub graduated from the Architectural Association School of Architecture, London, and worked at the Institut Français d'archéologie du Proche-Orient in charge of the excavation in downtown Beirut from 1995 to 1999. She collaborated with Michel Lasserre on notations of aspect variations of territories in conflict and post-conflict situations. Her monographic exhibitions include among others Paola Yacoub, Drawing with the things themselves (Beirut Art Center, 2011), and Paola Yacoub, kiss the black stones (Haus der Kulturen der Welt, Berlin, 2012).
    18:20 Dinner pause
    19:00 Walid Sadek, with Nida Ghouse
How does the troubled history of civil war continue to impact the conditions of living in postwar Lebanon? In The Ruin to Come, a collection of essays, written in Beirut between 2006 and 2016, Walid Sadek looks at the conditions of living under a temporality theorized as the "protracted now" of a civil war—one structurally capable of perpetuating the conditions of its own dominance—and argues, that although this temporality seems dominant, it nevertheless remains untranquil in the many unfinished strains of a troubled history that resist falling back into a settled and distant past. The book proposes and investigates diverse concepts of labor: the labor of ruin, the labor of the corpse, the labor of near blindness and the labor of missing.
The presentation of The Ruin to Come, Essays from a Protracted War (Motto Books & Taipei Biennial 2016) and reading by the author will be followed by a conversation with Nida Ghouse. Walid Sadek is an artist and writer living in Beirut. He is Professor and currently Chair of the Department of Fine Arts and Art History at the American University of Beirut. His early work investigates the familial legacies of the Lebanese civil war. He later began to posit, mostly in theoretical texts, ways of understanding the complexity of lingering civil strife in times of relative social and economic stability. His later written work proposes a theory for a post-war society disinclined to resume normative living. More recently, his artworks and written texts seek a poetics for a sociality governed by the logic of protracted war and search for eruptive temporalities to challenge that same protractedness.
Nida Ghouse is a writer and curator. Her ongoing writing project «Lotus Notes» has appeared variously in Mada Masr (Cairo 2014), After Year Zero (University of Chicago Press 2015), ARTMargins (MIT Press 2016), and Critical Writing Ensembles (Mousse Publishing 2016). She recently co-curated Parapolitics: Cultural Freedom and the Cold War (2017), and is currently working towards The Matrix of All Possible Narratives (with Anselm Franke and Erhard Schüttpelz, slated 2020), both at Haus der Kulturen der Welt. She was previously director of Mumbai Art Room, where she installed Walid Sadek's Thoughts on Speaking Dead.
        20:00 Pages, Nasrin Tabatabai and Babak Afrassiabi in Conversation with Corinne Diserens, via Skype

Pages is a bilingual Farsi/English magazine developed and edited by artists Nasrin Tabatabai and Babak Afrassiabi alongside their collaborative projects. Produced both in Iran and the Netherlands, it was initiated in 2004 and until now nine issues have been published. Pages has recently expanded to an online platform which aims at creating a space beyond the predefined economies of accumulation and distribution in archiving and publishing. In their presentation, Nasrin Tabatabai and Babak Afrassiabi will talk about the trajectory of ideas that led to initiating Pages' new platform (www.pagesmagazine.net) and delve into the relation to archiving and writing pursued in this platform while presenting sections of contributions by invited authors.
Pages: Issue 1, Public & Private, February 2004 / Issue 2, Play & Location, May 2004 / Issue 3, Desire & Change, September 2004 / Issue 4, Voice, June 2005 / Issue 5, On the Verge of Vertigo, August 2006 / Issue 6, Eventual Spaces, September 2007 / Issue 7, In Translation, March 2009 / Issue 8, When Historical, May 2011 / Issue 9, Seep, October 2013.
Artistic gestures and practices of thought—writing, drawing, and publishing is organized in collaboration with curator Corinne Diserens and Motto Books.
With the support of
Motto, Haus der Kulturen der Welt, National Culture and Arts Foundation & Taipeh Vertretung in der Bundesrepublik Deutschland