Posted in
art
,
books
,
distribution
,
writing
on March 18th, 2015
Tags:
Alberto Bertagna
,
Andrea Gritti
,
Antonella Gallo
,
Bruno
,
Chiara Rizzi
,
Consuelo Nava
,
Daniele Ronsivalle
,
Dario Gentili
,
Emanuele Garbin
,
Fabrizia Ippolito
,
Francesca Pignatelli
,
Giovanni Carli
,
Giulia Menzietti
,
Lorenzo Fabian
,
Luigi Latini
,
Massimo Rossetti
,
Mauro Berta
,
Pietro del Soldà
,
Renato Bocchi
,
Rosario Pavia
,
Sara Marini
,
Valeria Burgio
,
Valerio Paolo Mosco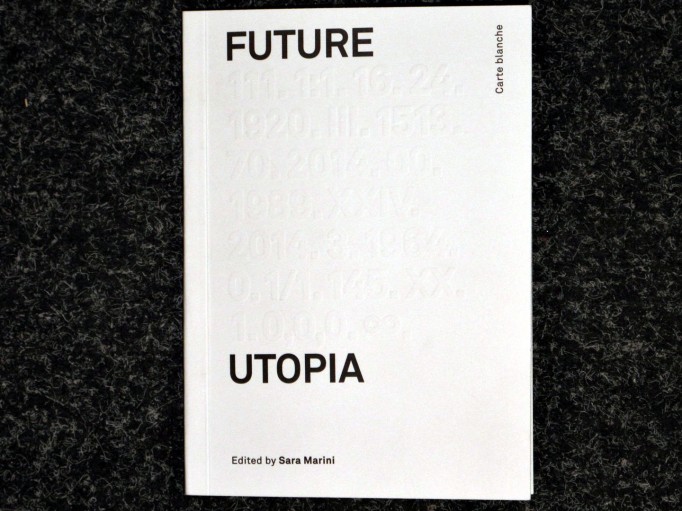 Future isTwelve Cities in Search of. Future is no Longer What it Used to be. Future is to Ask Yourself Where We Are Now. Future is an Utopian Vision, Future is also Back to Utopia: Future as Utopia. Future is Power, Power for a not Schedulable Life. Future as Practice. I Can Only Say One Thing About the Future: What I Wouldn't Want it to be. Future is Visions, Visions of Future. Future is the Space of Expectations. Future is Architecture and Prophecy. Future is also Accidents: the City of Failure, Without Landscape; the Laboratory-City, Recycle and Repair. Future is the Hegemony of the Present: a New Aesthetic of Reality, the History of the Monkey and the Path. Future is Reform or Revolution? We Are Looking For Urban/Human Futures. But No More Alibis, please.
Future Utopia collects twenty-two definitions of the future. The definitions insist on what we will bring in the future: they show the details of today in which is hidden the time to come and reveal the utopia that will feed the cities that are now in search of a future.
Autors: Sara Marini, Mauro Berta, Alberto Bertagna, Renato Bocchi, Valeria Burgio, Giovanni Carli, Pietro del Soldà, Lorenzo Fabian, Antonella Gallo, Emanuele Garbin, Dario Gentili, Andrea Gritti, Fabrizia Ippolito, Luigi Latini, Giulia Menzietti, Valerio Paolo Mosco, Consuelo Nava, Rosario Pavia, Francesca Pignatelli, Chiara Rizzi, Daniele Ronsivalle, Massimo Rossetti
This book is made with the contribution of Department of Architecture and Arts, Università Iuav di Venezia
Author: Sara Marini (Ed.)
Price: €15.00