Posted in
art
,
distribution
,
events
,
Motto Berlin event
,
Motto Berlin store
,
poetry
,
writing
on April 2nd, 2011 by admin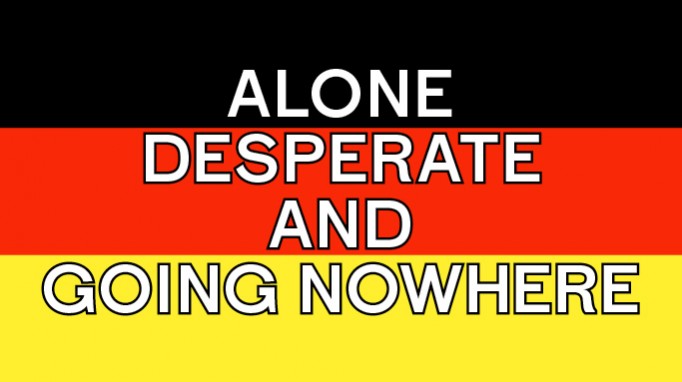 Alone, Desperate and Going Nowhere
A novel by Paul Haworth
Published by TRUE TRUE TRUE
Berlin launch at Motto Berlin
Saturday 2 April 2011, 6–8pm
7.30pm: hip-hop performance by Paul Haworth & Sam de Groot, featuring special guest Kasia Fudakowski
Alex 'Abs' Brenchley is back. The seven-foot tragedy opens the sequel to Silk Handkerchiefs with the words "2008 was the worst year of my life." This is the story of that year.
Her tongue – foraging a path through my skull – she's lost in sweet Abstacy – all thine energy and concentration directed towards staying upright – tantalisingly she nibbles my chin – I rest, my consciousness falters – her naughty hands all over the shop – just need a little TO is all – but, oh my – feel numb and can't fully appreciate – the sensations – past the belt-line – clutching my butt-cheeks – resting on her shoulder, drift off – come back around as I feel… – a sturdy finger penetrates my arse – the annulus is in my anus! – and two – frantically fingering my tradesman's – I fall back to sleep – until – a massaging of my balls and P is still soft and doughy – what gives? – the diet pills have stolen my wood! – and her wide, excavating tongue returns to forage deep, deep, deep inside my throat and I can't take it…bileous…no more…have to stop, I'm about to – puke! – I swing back – she gasps in ecstasy – puke! – I run—
Alone, Desperate and Going Nowhere sweeps our hyper-emotional hero across England, into the depths of despair and deranged behaviour, towards a mythical destination – The Lady Field – a fabled area of Hampstead Heath where it isn't just men who are cruising. Carnforth yobs,Sex and the City: The Movie, dogging fanatics, Christian Slater, Community Support Officers and the Page Street Gang – these are just some of the forces Alex is up against as he seeks to find the manhood, absolution and purpose in life that will empower him to win the love of Trevoreesia, his Absqueen.
All the while, the economy is collapsing – "My life had been in crisis for so long and now the world was catching up," observes Alex – and the soundtrack to this far-gone era is Take That's cruel taunt: THIS COULD BE THE GREATEST DAY OF OUR LIVES. Does that day come for Alex Brenchley or will he remain, always and forever, Alone, Desperate and Going Nowhere?
Mixing Cockney, teen lingo, Victorian slang and inventive wordplay, Haworth's colourful style makes for an exhilarating and addictive read. This is the second part in a trilogy of comedic novels about Alex Brenchley.
Paul Haworth (Lancaster, 1982) is the author of Silk Handkerchiefs and Andy de Fiets: Letter to Robin Kinross (written with Sam de Groot), both published in 2009 by TRUE TRUE TRUE, Amsterdam. Active also in hip-hop, painting and radio, Paul has recently participated in exhibitions and performances at the Barbican Art Gallery (London), Contemporary Art Center (Vilnius), SMBA (Amsterdam) and Motto (Berlin). He studied at the Ruskin School of Drawing and Fine Art (Oxford) and De Ateliers (Amsterdam). www.homelovin.co.uk
Published February 2011 by TRUE TRUE TRUE
18 × 11 cm, 128 pages, €10
ISBN 978-94-90006-03-7
www.truetruetrue.org