Posted in
events
,
magazines
,
Motto Berlin event
on July 15th, 2016
Tags:
Book launch
,
Dorothee Richter
,
OnCurating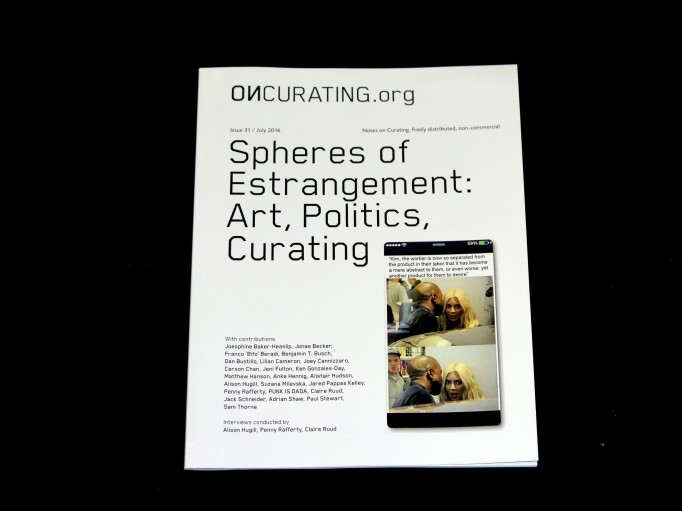 On Curating @ Motto Berlin. July 23rd from 7pm
OnCurating #31- Spheres of Estrangement: Art, Politics and Curating
With contributions from
Josephine Baker-Heaslip, Jonas Becker, Franco 'Bifo' Beradi, Benjamin T. Busch, Dan Bustillo, Lilian Cameron, Joey Cannizzaro, Carson Chan, Jeni Fulton, Ken Gonzales-Day, Matthew Hanson, Anke Hennig, Alistair Hudson, Alison Hugill, Suzana Milevska, Jared Pappas Kelley, Penny Rafferty, PUNK IS DADA, Claire Ruud, Jack Schneider, Adrian Shaw, Paul Stewart, Sam Thorne.
Editors: Jonas Becker, Benjamin T. Busch, Matthew Hanson, Penny Rafferty, Paul Stewart
Today's estrangement is a fully incorporated component of the modern experience, a stimulant for 'surplus alienation'. Therefore, this issue asks what artistic, architectural and curatorial approaches to estrangement offer current discourse in organisation, aesthetics and activism. The articles unpack estrangement for the political, social and cultural sprint of our time.
Publisher: Dorothee Richter
Co-Publisher: Michael Birchall, Ronald Kolb
Editors: Jonas Becker, Benjamin T. Busch, Matthew Hanson, Penny Rafferty, Paul Stewart
Proofreading: Stephanie Carwin
Graphic Design: Ronald Kolb, Biotop 3000