Posted in
events
,
magazines
,
Motto Berlin store
on February 28th, 2017
Tags:
Alessandro Bava
,
Ecocore #5
,
Eli Pitegoff
,
Lukas Hofmann
,
motto berlin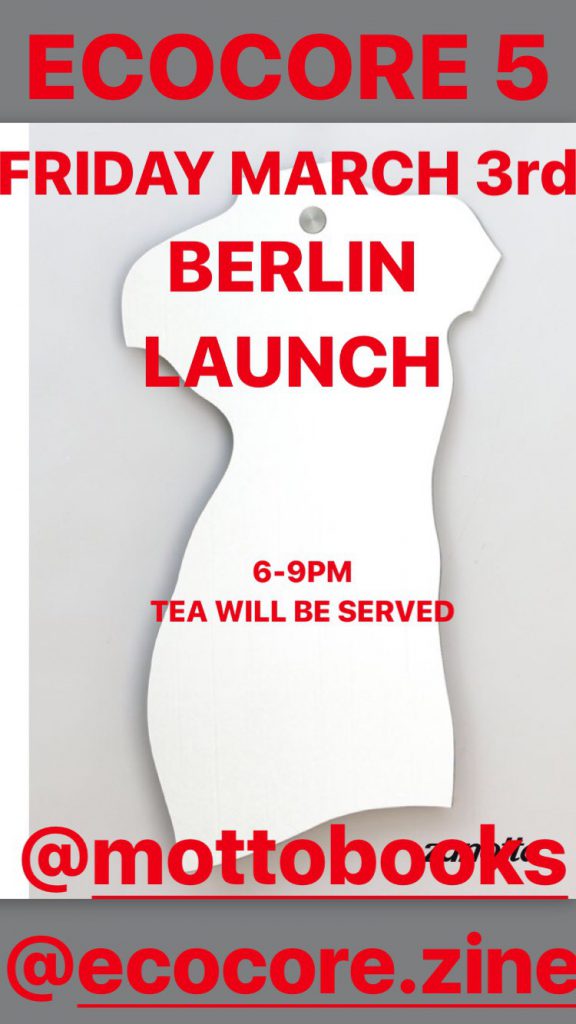 ECOCORE 5 – The Issue of Narcissism – BERLIN LAUNCH @ Motto Berlin
Friday 3rd March from 6-9pm
with a collaborative reading and a performance by Eli Pitegoff and Lukas Hofmann / Saliva: 'Bringing my phone to its destination'.
ECOCORE is an irregularly published and independent ecology magazine exploring the camouflaged souls of ecology and culture. Published by Alessandro Bava since 2011, its latest release is ECOCORE 5: The Issue of Narcissism, which exploits Narcissus as the symbol of the modern subject. What are we as subjects and why is this question so often explored as a discourse of the body? What is our 'nature', and how do we get to it? How do we commune with the external as if it weren't hostile? How do we cultivate an environment we want to participate in? Our psychic/social ecology meets with the environmental in haemorrhage of inner to outer.
GREEN TEA WILL BE SERVED