Posted in
Book launch
,
events
,
Motto Berlin event
,
writing
on July 25th, 2022
Tags:
Alive
,
art&fiction publications
,
Book presentation
,
Eurydice
,
event
,
motto berlin
,
raimar stange
,
Reading
,
Renée Thorne
,
talk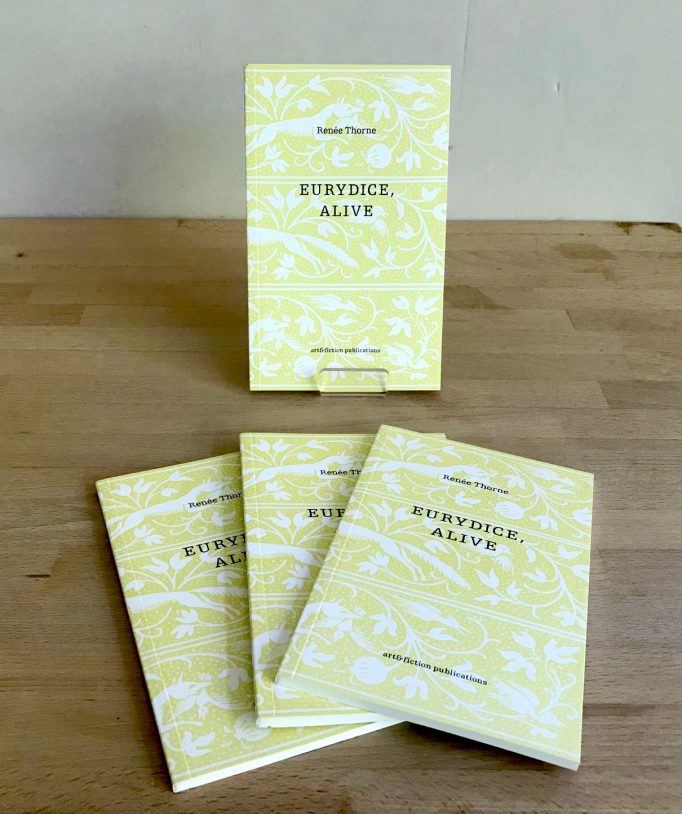 Please join us for a Book Presentation, Reading & Talk with Renée Thorne and Raimar Stange, at Motto Berlin.
Wednesday 27 July 2022
from 7pm

Motto Berlin
Skalitzer Str. 68 (im Hinterhof)
10997 Berlin

*Raimar Stange
Born 1960 in Hannover, Raimar Stange studied literature and philosophy. He works and lives in Berlin as a freelance critic and curator. Stange contributes regularly to Kunst-Bulletin, Zurich; Monopol, Berlin; artmagazine.cc, Vienna; Artist, Bremen and has written catalogue texts on, amongst others, Monica Bonvicini, Peter Friedl, Thomas Hirschhorn, Michel Majerus, Rirkrit Tiravanija, Silke Wagner, Johannes Wohnseifer and Stefanie von Schroeter. He curates exhibitions on climate change and post-democracy.

*Renée Thorne
Renée Thorne is an author and artist based in Basel, Switzerland. Her work spans from lyric essays and literary journalism to texts rooted in a performative practice. Renée recently finished an M.A. in Transdisciplinary Studies at Zürich University of the Arts (ZHdK) and will begin teaching Creative Writing at Franklin University in the fall.
–
Eurydice, Alive
Author: Renée Thorne
Publisher: art&fiction publications

Fusing essay, poetry and provocative prose, this hybrid work is an emotionally complex portrayal of loss and resurrection. The book ranges from memoir through myth to the overlapping lives of past artists in a fractal narrative traversing interior and exterior landscapes. In a brisk and unflinching account of the death of the narrator's mother, the reader descends into the subterranean realms of grief as the loss unfurls into interconnected and unexpected stories of the underworld. From Eurydice's indifferent return to Orpheus to a poet`s regret for the ghost that haunts him, each story is rich with the resonances in-between. Written in simple yet elegant prose, it is a story about emergence and the struggle to come alive. The result is a text as intense and urgent as the heartbeat the author is seeking.

Order the book here