Posted in
events
,
Motto Berlin event
,
music
,
poetry
,
Uncategorized
on June 13th, 2023
Tags:
motto berlin
,
music
,
poetry
,
Portraits by RObert
,
Robert Stastny
,
Roy Hughes
,
Spoken Words Poetry Doesn't Exist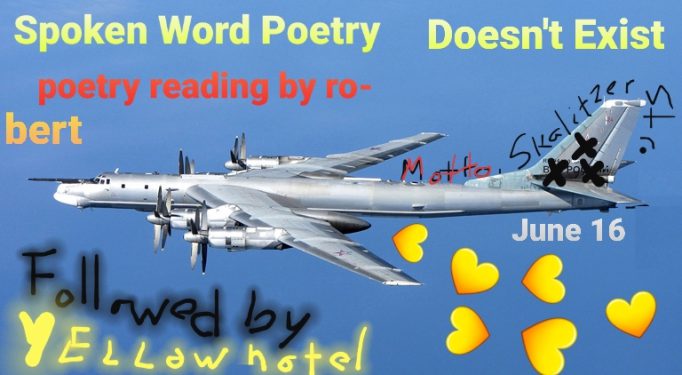 Dear friends,
We're pleased to welcome you to an enchanting evening filled with poetry and music at our courtyard, this coming Friday, June 16th, from 18:30 onwards.
We'll begin the evening with the remarkable Robert Stastny, a Berlin-inspired artist, who'll read out pieces from his acclaimed Portraits. He'll also give us an exclusive glimpse into his latest works. Following Robert's spellbinding readings, we'll transition into a vibrant musical performance by Yellow Hotel.
Poetry is an adventure, in itself. A voyage to somewhere, where the world of men and women – and anything you want to be – has less of an influence.
Music connects onto poetry naturally, Yellow Hotel is Roy Estel Hughes, recently transplanted from Austin to Berlin, and Robert.
Together we will travel – from poetry, to music, to somewhere else.
So, come join us at Motto for a relaxed evening filled with amusing poetry, music, books, and refreshing drinks. We can't wait to see you there!