Posted in
art
,
distribution
,
magazines
,
Motto Berlin store
on October 10th, 2009
Tags:
Ai Weiwei
,
Mathieu Wellner
,
mono.kultur
,
Yvonne Zmarsly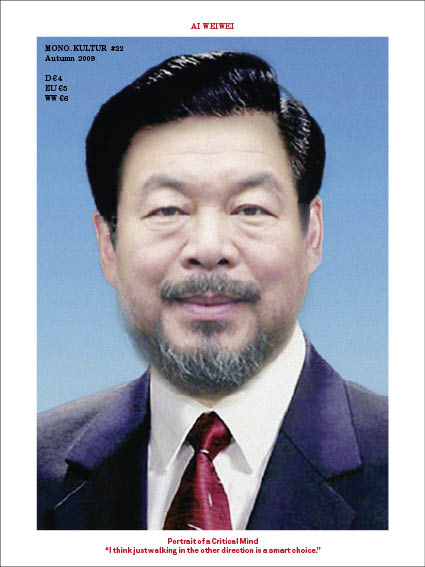 mono.kultur #22
Ai Weiwei: Portrait of a Critical Mind
"I think just walking in the other direction is a smart choice."
Ai Weiwei is widely viewed as the most important fine artist in China
today. The outspoken critic of the politcal system in China gained
widespread attention not only with his installations and projects for,
among others, Documenta XII and Haus der Kunst, but also his
architectural projects such as the Beijing Olympics Stadium and his
social engagement.
With mono.kultur, Ai Weiwei talked about the fine arts boom in China,
the mind games of architecture and why political activity can be a
work of art.
Autumn 2009 / English / 44 Pages + Fold-Out Poster
Interview by Mathieu Wellner
Artwork by Ai Weiwei
Design by Yvonne Zmarsly
D 4€, EU 5€, WW 6€.