Posted in
events
,
exhibitions
on July 29th, 2015
Tags:
Chihoi
,
Eva Lin
,
Ling Yu Tai
,
nos:books
,
Pei Yu Shen
,
Shen Shen Books
,
Son Ni
,
Ting Cheng
,
Waterfall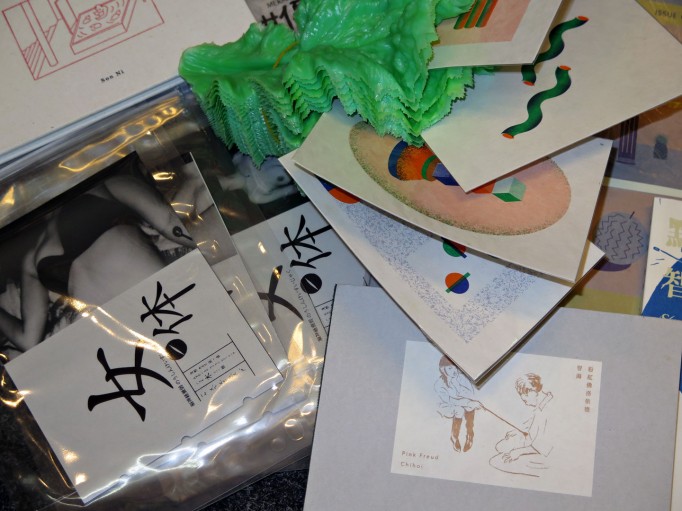 Two independent publishers from Taiwan, Shen Shen Books and nos:books, have arrived in Berlin to showcase their exceptional works and publications at "The Calabash Show", to take place at Motto Berlin from July 31 to August 30.
At The Calabash Show, the two publishers come to Berlin together with several of their artists. The show takes inspiration from an ancient mythical story about people entering the calabash for one day for spiritual practice. They left the calabash after many ordeals, without achieving immortality. When returned to the real world, one year had passed. At Motto Berlin,  the two mortal publishers and their artists present their latest works and publications, and share their thoughts behind the many ordeals of art and publishing.
Participating artists include Chihoi, Eva Lin, Ling Yu Tai, Pei Yu Shen, Son Ni and Ting Cheng. Come and meet them in person at the opening on July 31 at 6pm-9pm at Motto Berlin. The show is supported by the National Culture and Arts Foundation, Taiwan, and The Arts Development Fund of the Home Affairs Bureau, the Government of Hong Kong SAR.
– – – – – – – – – – – – – – – – – – – – – – – – – – – – – – – – – – – – – – – – – – – – – – – – – – – – – – – – –
THE CALABASH SHOW
Live DJ: Dan Raw 
Drink: Motto Bar
Publishers from Taiwan: Shen Shen Books, nos:books, Waterfall