Posted in
art
,
books
,
Journals
,
politics
on November 11th, 2022
Tags:
art
,
contemporary literature
,
cultural production
,
film
,
Kathryn Haddad
,
Mizna
,
Saleh Abudayyeh
,
SWANA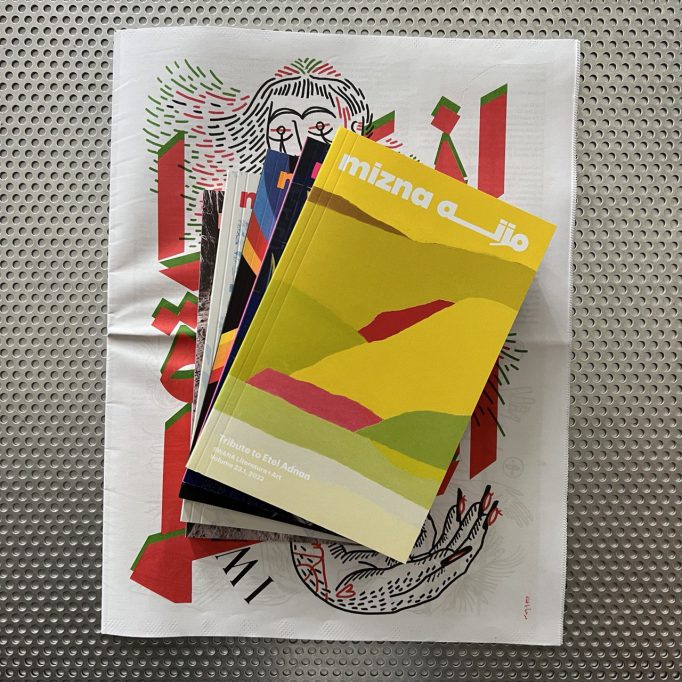 Dear friends,

Motto is very excited to announce that Mizna Publications are now available as part of our catalogue. 

//
Mission

Mizna is a critical platform for contemporary literature, film, art, and cultural production, centering the work of Arab and Southwest Asian and North African artists. For more than twenty years, we have been creating a decolonized cultural space to reflect the expansiveness of our community and to foster exchange, examine ideas, and engage audiences in meaningful art.
Named City Page's Nonprofit of the Year in 2020 and a Regional Cultural Treasure in 2021, we publish Mizna, an award-winning SWANA lit and art journal; produce the Twin Cities Arab Film Festival, the largest and longest running Arab film fest in the Midwest; and offer classes, readings, performances, public art, and community events, having featured over 400 local and global writers, filmmakers, and artists.

Vision
Mizna seeks to be a local, national, and international leader in providing excellent artistic platforms for emerging and established SWANA artists, connecting their work to engaged and thoughtful audiences.
Through Mizna, audiences have the opportunity to engage in the work of Arab and Muslim artists on its own terms. And our community has a critical opportunity to see some facet of their own experience reflected on the page or the screen.

History

Mizna was co-founded as a grassroots organization by Kathryn Haddad and Saleh Abudayyeh who identified a need for an artistic space dedicated to Arab and Muslim writers to narrate their own stories and make work on their own terms. Along with a small group of other Arab and Muslim writers, artists, and scholars, Kathy and Saleh established Mizna during vibrant time in the '90s when Asian and black Twin Cities artists and activists were creating collectives and working together to imagine a more socially just and representative arts scene.
Order here