Posted in
magazines
on October 25th, 2019 by admin
Tags:
Autumn/Winter 2019/2020
,
magazine
,
Provence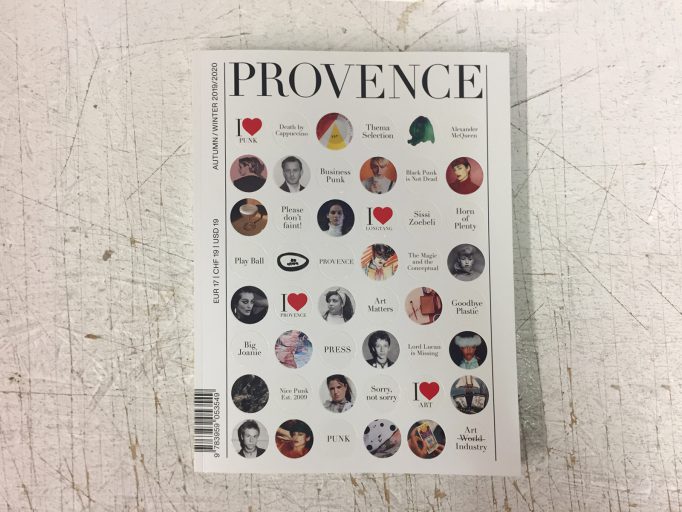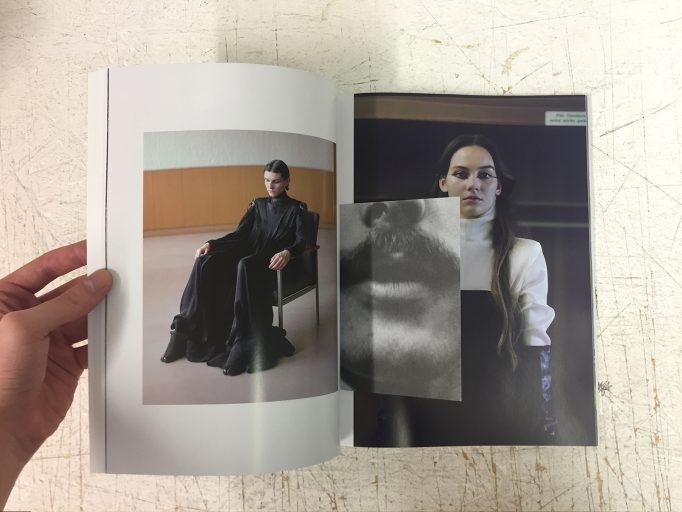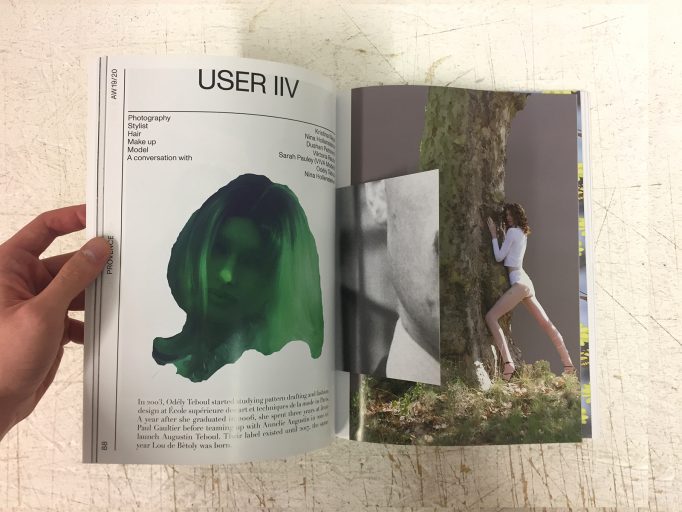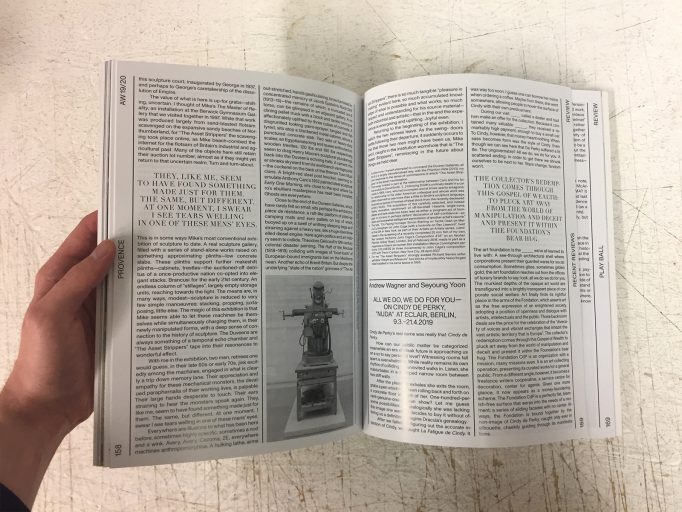 PROVENCE AW 19/20 is more than punk adjacent. We spent an afternoon at home with Pietro Mattioli, poring over portraits of club-goers he took during the last years of the 1970s at Club Hey, Zürich's first punk and new wave nightclub. These images are juxtaposed with more recent shots of patrons at House Of Mixed Emotions, a series of club nights in Zürichs Longstreet Bar.
Punk manifests in many ways, and apolitical it is not. A study of the genre could not have been dedicated to paper without considering its intersectional nuance. In two interviews, Big Joanie, the Black-British feminist punk trio and Sissi Zoebeli of Thema Selection discuss the inevitability of activist pursuit as marginalized people in specific creative and temporal contexts. In conversation with Anne Gruber, Ulrike Ottinger waxes nostalgic on her feminist and decolonial education, as well as her seminal 1977 film, Madame X—An Absolute Ruler. The two met at Ottinger's home on Bodensee, at the foot of the Alps.
Six postcards, conceived by Edgars Gluhovs, showing different crops of an image of the long-missing Lord Lucan have been scattered freely amongst the pages of this publication. Some things you've got to work for, others simply drop into your lap.
In the LITERATURE section of this punk-themed edition of PROVENCE, writer, curator, publicist, and editor, Hans-Christian Dany, offers a translated excerpt from his latest book, MA-1 Mode und Uniform, which is dedicated to the bomber jacket. "Deception and camouflage are part of the game when no one is supposed to know all too well how anyone else pays the rent". Overleaf, in a passage from When Surface Was Depth (2002), London-based novelist Michael Bracewell reflects on the relationship between art, counter-cultures and subcultures, and their liquidation into a mainstream.
We have no less than three editorials in ART & FASHION, two of which are dedicated to a single designer. Mikael Gregorsky shoots Aganovich, avant-garde haute-couture, styled by Alessia Ansalone; Kristina Nagel takes her lens to experimental designer Lou de Bètoly's latest collection, styled by our fashion editor Nina Hollensteiner; lastly, Nadine Fraczkowski journeys to a small village near Düsseldorf to capture Leila, a nineteen-year-old gymnastics enthusiast.
IN-HOUSE furthers our investigation into the nature of the contemporary gallery, which we pursued in the previous two issues. This time, we explore the phenomenon of in-house magazines founded by galleries and art institutions. We speak with Lionel Bovier, director of the MAMCO in Geneva, and Randy Kennedy, executive editor of Ursula, Hauser & Wirth's new publication, to gain insight as to this recent art world industry trend.
To control which stories are and are not told is a great responsibility. Kari Rittenbach offers a view from the other side of the desk, with a distillate of her rejected pitches and unfinished articles—the stories that never reached a platform beyond the inboxes of her editors.
Following this course, we've included REVIEW, a section comprising contributions by artists, curators and critics who we invited to challenge the format of the contemporary exhibition review.
On a trip to Hangzhou, China, we visited Li Lin, the art collector and founder of JNBY. Meanwhile, in Beijing, curator Egija Inzule spoke to Anna Eschbach and Antoine Angerer of I: project space about their latest initiative, The Nightlife Residency, an interdisciplinary project focused on extracting the social potential of the city's club-culture through a contemporary art practice. Further south, Wang Gongquan, proprietor of the Tsingpu Retreat offered advice as to the tricky business of balancing a public civil rights activism presence with a foray into the luxury hospitality business—what's a man to do?
Hannes Grassegger wears flip-flops and makes notes on Bitcoin from Richard Branson's island refuge, and over in Austria, our deputy editor Olamiju Fajemisin questions Ei Arakawa and Sarah Chow on the union of magic and concept from a medieval castle-cum-summer school atop a hill in the middle of Salzburg. Read all about it in REPORT.
PROVENCE. Biannual. Subscribe. Sorry.
Deprecated
: link_pages is
deprecated
since version 2.1.0! Use wp_link_pages() instead. in
/home/clients/04badc5f584cd5c2e11ec172df35785c/web/site/wp-includes/functions.php
on line
5326