Posted in
art
,
film
,
Motto Berlin store
,
writing
on October 16th, 2009 by admin
Tags:
All-Story
,
Zoetrope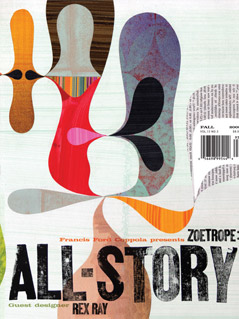 In 1997, Francis Ford Coppola launched Zoetrope: All-Story, a quarterly magazine devoted to the best new short fiction and one-act plays. Along with new stories, each edition of the magazine presents a Classic Reprint—a previously published short story that inspired a great film—to illustrate the narrative relationship between the art forms. Zoetrope: All-Story is also an art magazine, as the editors invite a different contemporary artist to illustrate and design each issue. Past guest designers include William Eggleston, Zaha Hadid, Julian Schnabel, Wim Wenders, Laurie Anderson, Peter Sellars, Helmut Newton, David Bowie, Gus Van Sant, Tom Waits, Ed Ruscha, David Byrne, Kiki Smith, Wayne Thiebaud, Chip Kidd, Yves Béhar, and Mike Figgis.
The newest print issue is soon available in Motto Berlin, with also selected back issues.