Posted in
books
,
graphic design
,
Motto Zürich event
on May 12th, 2012 by admin
Tags:
Bart de Baets
,
Sandra Kessenaar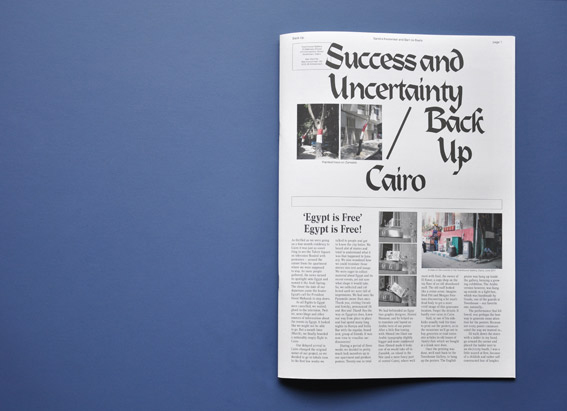 'Success and Uncertainty at San Seriffe in W139, Amsterdam'.
Success and Uncertainty: book presentation + talk with Sandra Kassenaar & Bart de Baets @ Motto Zurich/Corner College on the 19th of May at 5 pm.
Success and Uncertainty
From March till July 2011 Dutch graphic designers Bart de Baets (Knokke, Belgium, 1979) and Sandra Kassenaar (Johannesburg, South Africa, 1982) were resident artists at the Townhouse Gallery in Cairo.
Due to the recent events in Egypt and especially its capitol, their initial date of arrival on the 1st of February 2011 was postponed for a month. Being stunned by the political tidal wave flooding the country, the resignation of Hosni Mubarak and the phenomenon of having a curfew — something they had only heard of in World War II stories — the designers found themselves gazing from the sidelines, not knowing how exactly to react to all of this. They asked themselves 'Would it be arrogant to con- front the Egyptians with our assumptions? And 'isn't it ignorant to pretend to have a nose bleed?'
Their unclear position and the new situation the country found itself in proved to be an inspiring discovery, which eventually lead to the project Success and Uncertainty. The title of this work is an existing headline taken from the 12th of February 2011 front page of The Evansville Courier & Press, a local Indiana newspaper reporting Mubarak's resignation as the president of Egypt.
On Wednesday June 1st 2011 a lightbox was hung outside the Townhouse Gallery that announced the start of the project and showcased the first of twenty-one posters.
During the month of June 2011, each day a new poster was presented, generating a growing exhibition. The daily changing posters could be seen both in- and outside of the gallery and — just like news- papers — showed bold statements and gruesome facts, next to light-hearted messages, such as casual observations and rumours that caught Sandra and Bart's attention during their residency. The content provided by both therefore created a clash of information that will influence the way one reads a poster.
It was this constant dialogue between the designers that lead to Success and Uncertainty.
Deprecated
: link_pages is
deprecated
since version 2.1.0! Use wp_link_pages() instead. in
/home/clients/04badc5f584cd5c2e11ec172df35785c/web/site/wp-includes/functions.php
on line
5324