Posted in
architecture
,
Motto Zürich event
,
Motto Zürich store
on September 26th, 2011 by admin
Tags:
ETH
,
trans magazine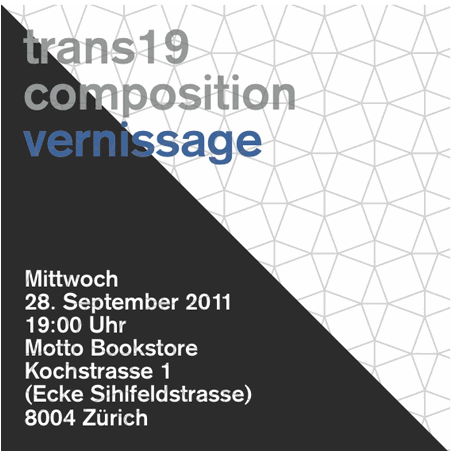 «this was fun – it was a lot of fucking work, and it's one of the hardest things I've ever done, but it was worth the effort.» JOHN ZORN
Wir möchten euch am Mittwoch 28. September zur Vernissage in den Motto Bookstore an der Kochstrasse 1 in Zürich einladen. Um 19:30 Uhr wird die Redaktion das Heft vorstellen und anhand einiger Artikel in die Thematik "Komposition und Architektur" einführen. Beim anschliessenden Apero freuen wir uns auf anregende Diskussionen.
Es grüsst, die transRedaktion
Philipp, Steffen, Michel und Siham
Deprecated
: link_pages is
deprecated
since version 2.1.0! Use wp_link_pages() instead. in
/home/clients/04badc5f584cd5c2e11ec172df35785c/web/site/wp-includes/functions.php
on line
5324