Posted in
art
,
curating
,
curatorial studies
,
events
,
James Voorhies
,
Motto Berlin event
,
Uncategorized
on June 28th, 2017
---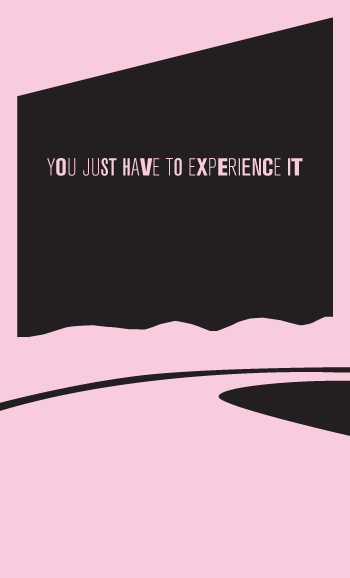 You Just Have to Experience It
Tuesday 4th July 2017
From 7pm
Motto Berlin
You Just Have to Experience It is a publication and event. It combines citations culled from the book Beyond Objecthood: The Exhibition as a Critical Form since 1968 to trace a history of the changing role of the spectator in art and exhibitions from Minimalism to Relational Art, and New Institutionalism to the present.
Produced on the occasion of the launch of Beyond Objecthood, this public talk in the shape of a performance reading presents a brief history of the exhibition as a critical form from the 1960s to the present, a form that inherently solicits spectators into temporal and spatial experiences and situations as indispensable components of the work.
The title refers to a statement by the American artist Tony Smith who recounts in a 1966 Artforum interview a ride on the newly minted New Jersey Turnpike, recalling a transformative nighttime experience of moving through space and time on the unmarked highway. This experience caused him to question the viability of art to represent something like that. You Just Have to Experience It uses this moment as a point of departure to explore how the criticality once posed by figures like Smith who solicited spectators into durational experiences in their work faces many challenges, not least of which is competing with the institutions that give it voice in an era when the differences between art and entertainment increasingly blur.
—
James Voorhies is a curator and art historian of modern and contemporary art, as well as Dean of Fine Arts and Associate Professor at California College of the Arts in San Francisco.
Bureau for Open Culture is a curatorial practice that inhabits and connects with institutions, designers and publishers to realise projects with artists and writers. The projects forge intersections among art, design, education, and consumer culture to rethink how institutions address and engage spectators.
—
Beyond Objecthood: The Exhibition as a Critical Form since 1968