Posted in
Artist Book
,
distribution
,
Wholesale
on August 8th, 2017 by l w
Tags:
Malte Bartsch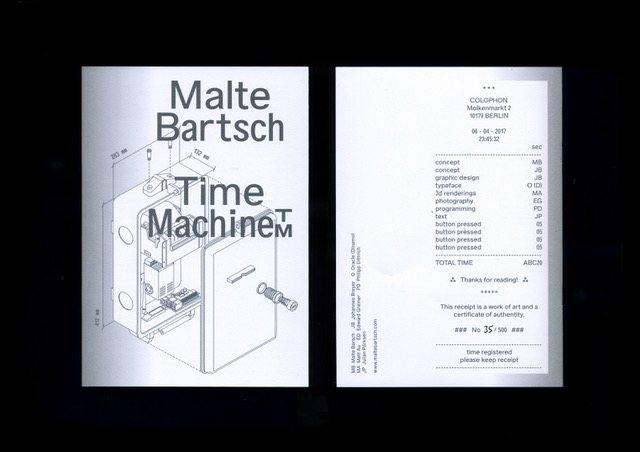 The Time Machine booklet is an artist publication as well as a manual of the Installation "Time Machine". A Machine at which visitors press a button and a cash receipt is printed as long as the button is pressed, telling how long they pressed the button. Each booklet is delivered with a unique cashreceipt pressed by the Artist Malte Bartsch in his studio in Berlin.  The booklet is a co-work with Johannes Breyer from Dinamo Typefaces and is an artwork itself. 
Editon of 500 pieces. 
.
Deprecated
: link_pages is
deprecated
since version 2.1.0! Use wp_link_pages() instead. in
/home/clients/04badc5f584cd5c2e11ec172df35785c/web/site/wp-includes/functions.php
on line
5326