Posted in
books
,
Chert
,
events
,
Motto Berlin event
,
Motto Berlin store
on January 5th, 2015 by admin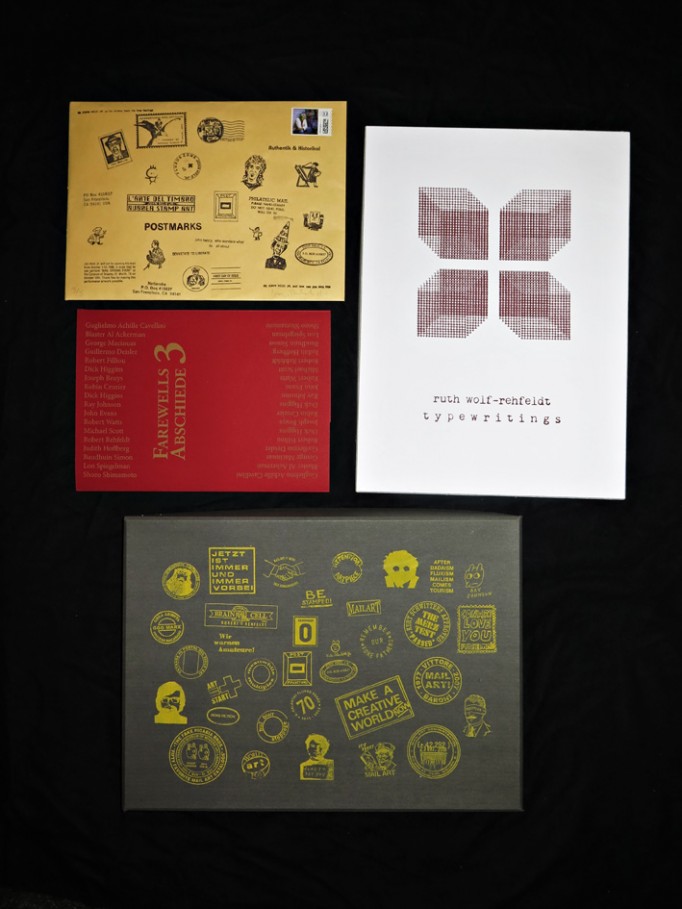 Verlag Lutz Wohlrab at MOTTO Berlin. 10.01.2015
from 6pm
Despite being illegal in the DDR when formed, Lutz Wohlrab have been publishing titles since the mid-1980s. In 2009, the release of the Robert Rehfeldt book was a significant point for the publishing house. Considered the most important German Mail Aritst, Robert Rehfeldt was central in connecting the East and the West from his East Berlin home. The book celebrates his life and work up to his death in 1993. Along with books, Lutz Wohlrab publish editions and films that focus on Mail Artists, including Oskar Manigk, Ruth Wolf-Rehfeldt, HR Fricker, Klaus Staeck, Martin Berhardt, Endre Tót, John Held Jr., Carl Chew and many others. Of particular note is the 2012 edition celebrating 50 Years of Mail Art.
–
Lutz Wohlrab ist seit Mitte der 1980er Jahre verlegerisch tätig, damals noch illegal in der DDR. Mit dem Buch über Robert Rehfeldt von 2009 intensivierte er diese Arbeit. Robert Rehfeldt erhob den Briefverkehr zur Kunst und war Schaltstelle zwischen Künstlern in Ost und West. Von Ost-Berlin aus wurde er der wichtigste deutsche Mail Artist. Das Buch würdigt Leben und Werk des 1993 Verstorbenen. Lutz Wohlrab gibt neben Büchern auch Editionen und Filme heraus, die sich auf Künstler der Mail Art konzentrieren. Dazu gehören Oskar Manigk, Ruth Wolf-Rehfeldt, H.R. Fricker, Klaus Staeck, Martin Bernhardt, Endre Tót, John Held jr., Carl Chew und viele andere. Besonders hervorzuheben ist das Assembling zum Jubiläum "50 Years of Correspondence/Mail Art" von 2012.
10.01.2015 at 7pm at MOTTO Berlin in conjunction with the openings of HOME ARCHIVES: Paulo Bruscky & Robert Rehfeldt's Mail Art Exchanges from East Berlin to South America and SIGNS FICTION, Ruth Wolf-Rehfeldt at Chert Gallery.