Posted in
art
,
events
,
exhibitions
on October 14th, 2020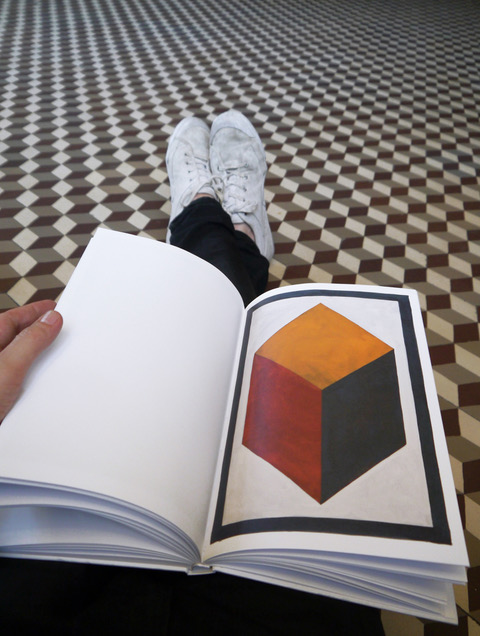 INGO GERKEN
O F F E N E S  B U C H
16. Oktober – 21. November 2020
Donnerstag, 22.10.2020
Mit der Doppelausstellung OFFENES BUCH schlägt Ingo Gerken ein neues Kapitel seiner Werkserie BIBLIOSCULPTURES auf. Geöffnete Ausstellungskataloge, Monografien und Kunstmagazine werden zum komplexen Spielfeld für strategische Sinnverschiebung, poetische Erweiterung und systemkritischen Kommentar. Ganz banale Gegenstände mischen sich als skulpturale Arrangements in die bestehenden Bild- und Sinnzusammenhänge ausgewählter Kunstpublikationen und untersuchen hier das Kräfteverhältnis zwischen Buch, Text, Bild und Ding. Unscheinbare Alltagsobjekte werden zu offensiven und subversiven Elementen, die der ikonischen Wucht zeitgenössischer Kunstproduktion und -reproduktion wertneutral entgegentreten. Auf entwaffnend leichte Weise durchstoßen sie die Matrix der Bücher und erzeugen eine neue Ordnung. Sie verlagern den Schwerpunkt der Betrachtung aus dem Buch heraus in den realen Raum, in dem sich der symbiotische Diskurs zwischen künstlerischer Realität und allgemeiner Lebenswirklichkeit weiterdenken lässt.
Für die zwei Ausstellungen hat Ingo Gerken ortsspezifische Installationen entwickelt, die parallel im RAUM FÜR ZWECKFREIHEIT und bei MOTTO BERLIN zu sehen sind.
Folgende Bücher werden u.a. geöffnet sein:
– Hello World – Revision einer Sammlung, Nationalgalerie Staatliche Museen zu Berlin, Hrsg. Udo Kittelmann & Gabriele Knapstein, Hirmer Verlag, München 2018
– Art of our Time – Ten Years of the Premium Imperiale, The Japan Art Association, 1999
– Fondation Beyeler – Die Sammlung, Hrsg. Theodora Vischer, Hatje Cantz Verlag, Berlin 2017
– An Anthology of Concrete Poetry, edited by Emmett Williams, Something Else Press 1967, re-edited by Rachel Simkover, Motto Books 2013
– Sexy and Cool – Minimal goes Emotional, Kunsthalle Tübingen, Kerber Verlag, Bielefeld 2017
– Ellsworth Kelly, Hrsg. E.C. Goosen, The Museum of Modern Art, New York Graphic Society, Greenwich, Connecticut 1973
– Fred Sandback / Luis Barragán, The Properties of Light, Hatje Cantz Verlag, Berlin 2018
– Anish Kapoor, Svayambh, Hrsg. Rainer Crone & Alexandra von Stosch, Prestel Verlag, München 2008
– Alicja Kwade, Kestnergesellschaft Hannover, Westfälischer Kunstverein Münster, Distanz Verlag, Berlin 2010
– Jason Dodge – a hole through speaking., LENTOS Kunstmuseum Linz, Verlag für moderne Kunst Nürnberg, Nürnberg 2013
– Ann Veronica Janssens – An den Frühling, a book made by Hans Theys, Museum Morsbroich Leverkusen, DuMont Literatur und Kunst Verlag, Köln 2007
– Michaela Meise – Ding und Körper, Badischer Kunstverein, Verlag der Buchhandlung Walther König, Köln 2012
– Erika Hock – Functionality and Fiction, with an Essay by Vanessa Joan Müller, published by Lugemik, 2019
– Gerhard Richter – Bilder aus privaten Sammlungen, Hrsg. Götz Adriani, Stiftung Frieder Burda, Hatje Cantz Verlag, Berlin 2018
– Was ist ein Bild?, herausgegeben von Gottfried Boehm, Wilhelm Fink Verlag, 4. Auflage, München 2006
– Modern Matter Magazine, published by OMO inc., a creative agency for conceptual art & design, London 2020
 16.10.2020 – 1.11.2020

RAUM FÜR ZWECKFREIHEIT 
MOTTO BERLIN
Die Außenvitrinen im Durchgang und im Hinterhof sind auch außerhalb der Öffnungszeiten durchgehend frei zugänglich.