Posted in
art
,
Motto Berlin event
on August 5th, 2017
Tags:
Jürgen Kleft
,
Textem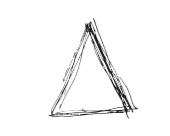 Shellpunk
Tuesday 8th August 2017
From 7pm
Motto Berlin
In the beginning was the tent. Wandering like a nomad, on the steady quest for the oases of the mind, Jürgen Kleft has battled his way through woods, steppes and frozen wastelands, has scaled vertiginous mountain tops and swum through wild rivers, crossed turbid fords, discovered the jungle and finally came to squeeze outdoor fashion in the tight corset of urbanity. Newly released, Shellpunk is the first collection of this daredevil's adventures.
Based in Vienna, the devoted student of nature Jürgen Kleft explores the secrets of equipment and planning, of improvisation and bricolage. Since five years he enquires into the ludic set between definition and value, between use and material of the mere object. In the face of a life-threatening August sun, he now dares the descent into the Berlin asphalt jungle.
"In the end, all creation is playing, and every game holds something creative – no matter how you put it, the productive element always prevails. This is why we renounce seriousness and irony, but have decided to rush forward following our spirit of discovery and our thirst for knowledge. Nothing is linear anymore!"
Published by Textem, the monograph takes you on a comprehensive tour through Kleft's oeuvre; its title, Shellpunk, is programmatic. "In the course of our research we became aware of a very special gure, a phenotype. The book is about a maverick, a Gaulish village, a pure robustus – or as we call him, the Shellpunk. Neither has he ever read Being and Time, nor did he follow the advices of any lifestyle guidebooks. And, most of the time, he would prefer not to." Akin to the Shellpunk's predilection for new, wild situations, Jürgen Kleft acts on his sculptures: they may still be sculptures, but in the first place they are equipment for exhibitions. As occupying is an emancipatory act, his artworks bear clear signs of use.
The very generous contributions from Ondrej Cikan, Nina Gross, Raphael Dillhof, Katharina Schaar, Philip Waldner, Fransa Routin und Nikolaus Maria Kohlberger permeate and enrich the artist's work. With his mystic tracks, David Peschka bestows a sonic aura of wildness and wilderness on the world of Jürgen Kleft.