Posted in
books
,
literature
,
Motto Berlin event
on October 21st, 2010
Tags:
Carsten Tabel
,
Lubok Verlag
,
Sam de Groot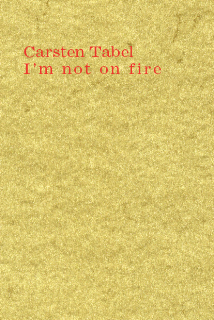 I'm not on fire Carsten Tabel
gestaltet von/ designed by Sam de Groot
Broschur, 96 S., 15×17 cm/ Paperback, 96 p., 15×17 cm
Auflage 750/ edition 750
deutsch/ german
Published by Lubok Verlag
The publication is released on the occasion of the exhibition "The difference between you and me is that I'm not on fire" showing works of the Leipzig artist at galerieKleindienst from October 21 to November 20, 2010. We cordially invite you to the opening and book presentation on October 21, 2010 at 8 pm at galerieKleindienst, Leipzig.
The reading by the author of selected texts from "I'm not on fire" will take place at the Lubok Zentrale, Paul-Gruner-Straße 64, Leipzig, on October 29 at 6.30 pm.