Posted in
Motto Berlin event
,
performance
on August 8th, 2018
Tags:
Adam Fearon
,
Alpina Huus
,
motto berlin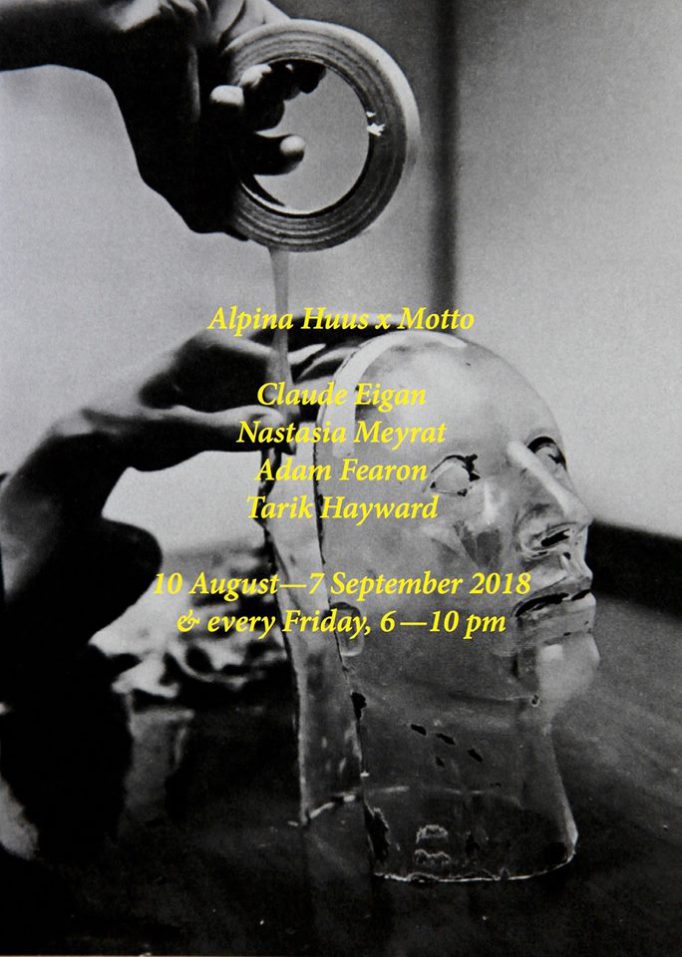 Adam Fearon. Alpina Huus x Motto
10 August, 6-10pm
8pm sharp: Performance by Jessica Gadani
In August 2018, four artists are challenged to think the outdoor exhibition space and the historical window displays located in the courtyard of a bookstore in Berlin. Over the course of a project exploring the performative potential of their visual and sculptural practices, you are invited to a weekly gathering, during which one of the artists will unveil their contribution. Each new project will be visible throughout the week following the opening.
Adam Fearon was born in Dublin where he studied Fine Art at National College of Art and Design before going on to study at Frankfurt's Städelschule. He has exhibited widely, including recently at Harbinger, Reykjavik; Frankfurter Kunstverein; Kunsthal ved Siden Af, Svendborg; BQ, Berlin; Temple Bar Gallery, Dublin and the Museum für Moderne Kunst, Frankfurt. In 2019 he will have a solo exhibition at the Butler Gallery, Kilkenny. He lives and works in Berlin.
* * *
Alpina Huus x Motto
10 August—7 September 2018
Adam Fearon, 10 August, 6-10pm
Claude Eigan, 17 August, 6-10pm
Tarik Hayward, 24 August, 6-10pm
Nastasia Meyrat, 31 August, 6-10pm
* * *