Posted in
art
,
books
,
distribution
,
events
,
fairs
on September 15th, 2010 by admin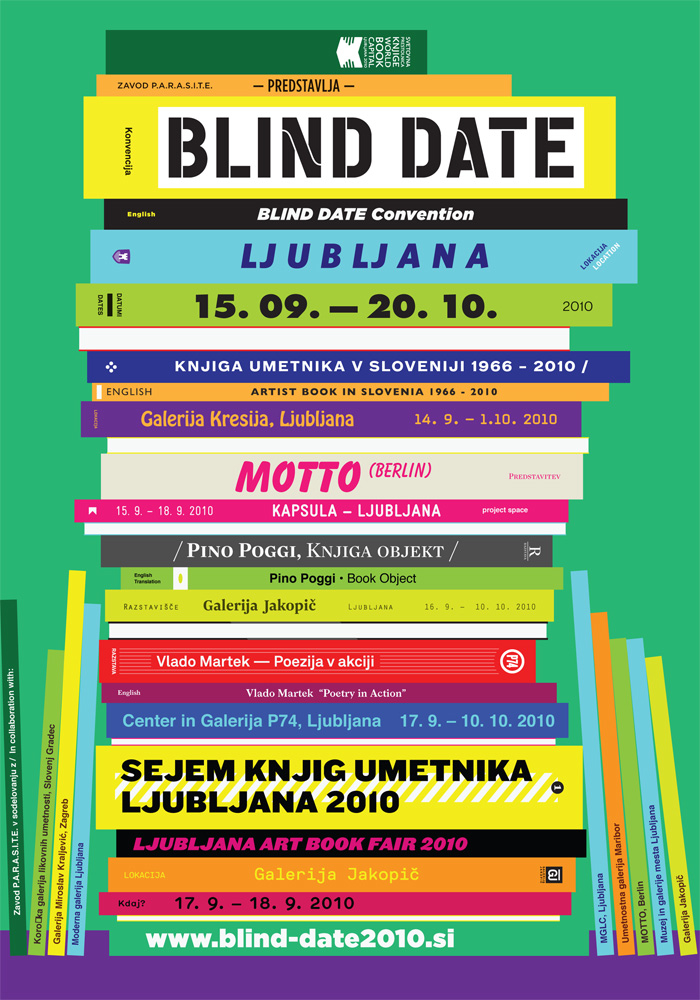 ARTIST BOOK FAIR (17.09-18.09.2010) and BLIND DATE CONVENTION (14.09-20.10.2010) @ Ljubljana.
* Ljubljana Artist Book Fair 2010 – the first fair of its kind in Ljubljana – which will take place at Jakopič Gallery (Slovenska cesta 9, Ljubljana) on Friday 17 September and Saturday 18 September 2010.
Participants (Publishers, institutions, artists):
AKV Berlin Publishing (Berlin), Alja Piry (Ljubljana), Argobooks (Berlin), Cvetka Hojnik (Lendava), Carmelo Cacciato (Monfalcone), Franco Vecchiet (Trst), Hubert Kretschmer (Munchen), Lubok Verlag (Leipzig), Vlado Martek (Zagreb), MER. Paper Kunsthalle (Gent), MGLC (Ljubljana), Motto (Berlin), Radio Cona (Ljubljana), Reloading Images (Berlin), Darko Simišić (Zagreb), Space Poetry (Kobenhaven), Mladen Stilinović (Zagreb), Ugly Duckling Press (New York), Undergrad (Beograd), Sašo Urukalo (Ljubljana), WHW (Zagreb), Zavod P.A.R.A.S.I.T.E. (Ljubljana).
Opening hours: Friday, 17. 09. 2010, 3 pm–7 pm, Saturday, 18. 09. 2010, 11 am–6pm.
Entrance to all events, exhibitions and the fair is free.
PROGRAM:
Friday, 17. 09. 2010
4 pm Artist books workshop
5 pm Lecture by Darko Simišić, Photobooks
Saturday, 18. 09. 2010
12-2pm Children's Artist Book Workshops
3 pm New artist edition: Teo Spiller; Radio CONA
4 pm In discussion: Vlado Martek with Branka Stipančić
5 pm -5 minutes, 3rd Video Biennial
* Blind Date Convention – First International Festival of the Artist's Book. Ljubljana 2010, 14 September – 20 October 2010.
Zavod P.A.R.A.S.I.T.E./ P.A.R.A.S.I.T.E. Institute is pleased to announce the Blind Date Convention, the First International Festival of the Artist's Book and Artist's Publications, which will unfold in Ljubljana from 14 September to 20 October 2010. The Blind Date Convention is prepared with a number of local and international partners and is a component of the UNESCO project Ljubljana – World Book Capital 2010.
The festival comprises a rich exhibition program, educational workshops, presentations of newly released artist books, a cycle of experimental music concerts, public conversations, video projections, new magazine releases, etc.
The exhibition program kicks off with an anthological overview of Slovene artist books, The Artist Book in Slovenia 1966–2010, which will open 14 September 2010 at Kresija Gallery. The exhibition was prepared in collaboration with Moderna galerija, Ljubljana, the International Centre of Graphic Arts, Ljubljana (MGLC) and numerous private partners. The exhibition is curated by Tadej Pogačar and assistant curator Sonja Zavrtanik.
On Wednesday, 15 September 2010, in KAPSULA, we present the program of independent distributor MOTTO Distribution which offers more than 3000 titles of independent artist publications and fanzines throughout bookstores in Berlin and Zürich.
On Thursday, 16 September 2010, follows the opening of the solo exhibition Book – Sculpture by Italian artist Pino Poggi in Jakopič Gallery. Pino Poggi is an important visual creator, active in a number of fields of contemporary visual creation. He is known for his social engagement in a series of works, performances and installations that he has been making since the 1970s. The exhibition is curated by Marko Košan and is a co-production with Koroška Gallery of Fine Arts, Slovenj Gradec.
On Friday, 17 September 2010 in P74 Center and Gallery we open the solo exhibition by Vlado Martek with the title Poetry in Action. The exhibition will be the first entire presentation of Martek's artist books which he inventively and exceptionally fuses with philosophy and poetry. The exhibition is curated by Branka Stipančić, and created in collaboration with g-mk/Galerija Miroslav Kraljević in Zagreb.
For more information
Zavod P.A.R.A.S.I.T.E.
P74 Center and Gallery, Prusnikova 74
1000 Ljubljana
Slovenia
www.zavod-parasite.si
Notice
: link_pages is
deprecated
since version 2.1.0! Use wp_link_pages() instead. in
/home/clients/04badc5f584cd5c2e11ec172df35785c/web/site/wp-includes/functions.php
on line
3816