Posted in
art
,
books
,
distribution
,
events
on July 1st, 2010 by admin
Tags:
Artspeak
,
fillip
,
Metahaven
,
Working Format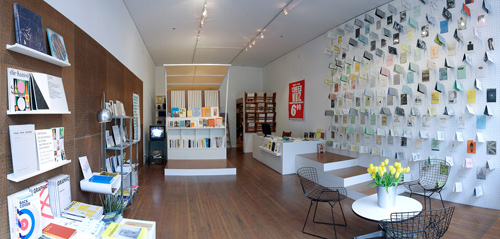 Motto Storefront events update.
Metahaven Talk: Saturday, July 3rd, 2pm
Metahaven (Vinca Kruk, Daniel van der Velden) is a design studio engaging the field of visual identity. From research projects, such as the Sealand Identity Project (2004), Museum of Conflict (2006), and Quaero (2007), the group has moved into installations and critical design projects such as Affiche Frontière (CAPC musée d'art contemporain de Bordeaux, 2008) and Stadtstaat (Künstlerhaus Stuttgart and Casco Utrecht). Its recent book, Uncorporate Identity (Lars Müller Publishers, 2010), matches design with inquiries on globalization and network society. Metahaven's work was included in group exhibitions like Forms of Inquiry (Architectural Association, London, 2007, cat.) and On Purpose – Design Concepts (Arnolfini, Bristol, 2008). Upcoming projects include a contribution to Manifesta 8 in Murcia, Spain (opening October 2010) and to Graphic Design Worlds at Triennale Design Museum in Milan (2011). Metahaven's commissioners include the Van Abbemuseum, Valiz Publishers, e-flux Journal, Premsela Foundation and Bureau Europa. Metahaven lectures regularly, and teaches at Yale University, New Haven, the Design Academy, Eindhoven, and the Sandberg Institute, Amsterdam.
Working Format Talk: Saturday, July 10, 2pm
Working Format is a graphic design studio founded by Ross Milne, Grace Partridge and Abi Huynh, and based in Vancouver, Canada. Working Format exhibits a project-specific working process that has produced a diverse body of work that includes type design, signage, identity and printed matter. The studio has received numerous distinctions including recognition from The Best Dutch Books, Graphex 2008 and 2010, Coupe, Alcuin Society and Salazar awards.
Upcoming Events
July 17: Ooga Booga talk at 2pm
www.artspeak.ca
www.fillip.ca
233 Carrall Street
Vancouver, BC
V6B 2J2 Canada
info@artspeak.ca
Tel. 604.688.0051
Fax 604.685.1912
Tuesday – Saturday, 12-5pm