Posted in
Uncategorized
on June 22nd, 2010 by admin
Tags:
Artspeak
,
fillip
,
Oscar Tuazon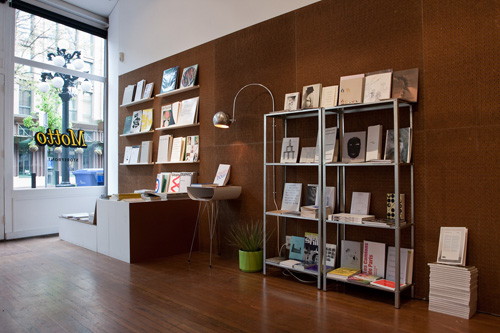 Motto Storefront @ Artspeak, Vancouver. Programm update.
Oscar Tuazon Talk: Saturday, June 26, 2pm
Oscar Tuazon is a artist, writer, publisher and curator based in Paris, France, and Tacoma, Washington. In 2007 he co-founded Castillo Corrales, a collectively-run gallery in Paris, and Section 7 Books, its in-house bookstore. Begun as an attempt to establish a new infrastructure for small-press publishing within Paris, the store hosts regular events including, most recently, talks by Brian Kennon (2nd Cannons Publications), Will Holder, and Aaron Flint Jamison (Veneer Magazine). Tuazon's own work has appeared in solo exhibitions at ICA London (2010), Kunsthalle Bern (2010), Künstlerhaus Stuttgart (2009), and Palais de Tokyo, Paris (2007). A catalogue of his work was recently published by Do.Pe. Press and Paraguay Press, with Kunsthalle Bern, Centre d'art Contemporian Ile de Vassiviere, and Parc Saint Leger.
Upcoming Events
July 3: Metahaven talk at 2pm
July 10: Working Format talk at 2pm
www.artspeak.ca
www.fillip.ca
www.mottodistribution.com
Artspeak
233 Carrall Street
Vancouver, BC
V6B 2J2 Canada
info@artspeak.ca
Tel. 604.688.0051
Fax 604.685.1912
Tuesday – Saturday, 12-5pm