Posted in
art
,
books
,
exhibitions
on May 14th, 2010 by admin
Tags:
Artspeak
,
fillip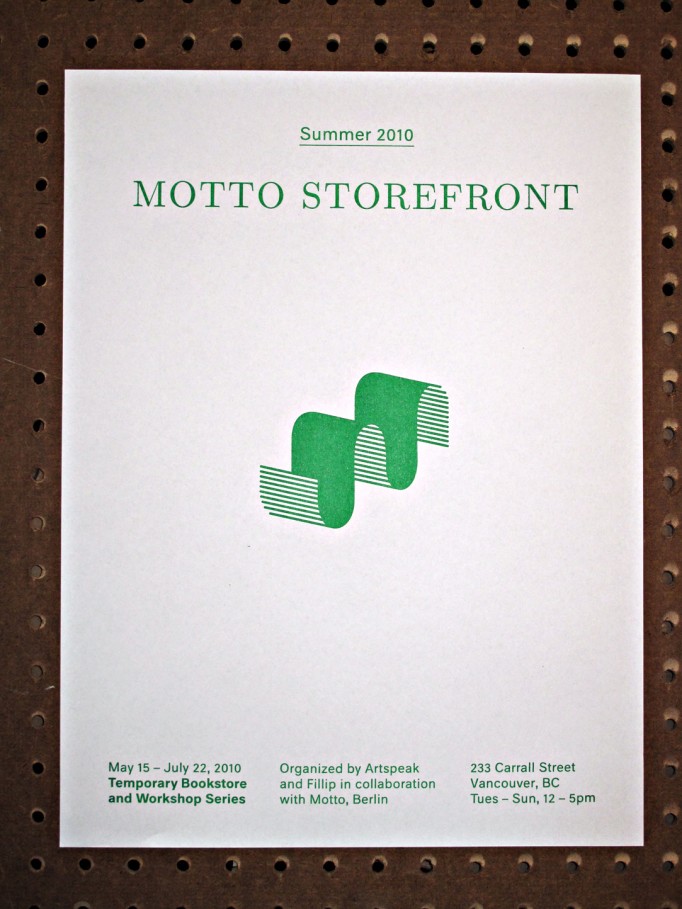 Motto Storefront @ Artspeak, Vancouver.
May 15 – July 22, 2010
Organized by Artspeak and Fillip, with Motto.
Motto Storefront transforms Artspeak into a temporary space for the sale, presentation, and discussion of contemporary art publishing. The selection of printed matter for the store has been made by Motto, a Berlin and Zürich-based bookstore and distributor specializing in experimental, small run, and self-published artist books, magazines, and fanzines.
Talks and Workshops: Saturdays at 2pm
Motto Storefront provides the context for a series of related public programming intended to create a sustained dialogue within Vancouver on issues related to the production and consumption of art publishing. Formed around an ongoing, ad hoc residency program with international publishers, designers, artists, and booksellers, this series will take the form of weekly talks, workshops, and launches investigating alternative retail models, self-initiated design practices, and small scale publishing initiatives.
Participants will include Alexis Zavialoff (Motto, Berlin); Stuart Bailey (Dexter Sinister, New York); Rob Giampietro (Project Projects, New York); Matthew Stadler and Patricia No (Publication Studio, Portland); Wendy Yao (Ooga Booga, Los Angeles); Andjeas Ejiksson (Geist, Sweden); Stand Up Comedy (Portland); Primary Information (New York); and Abi Huynh and Ross Milne (Working Format, Vancouver), amongst others.
Upcoming Events
May 15: Opening and talk by Alexis Zavialoff at 2pm
May 22: Talk by Stuart Bailey at 2pm
May 29: Talk by Rob Giampietro at 2pm
Nieves Zine Library
As a compliment to Motto Storefront, Artspeak and Fillip are very pleased to present the Nieves Zine Library, a selection of 100 zines published by Nieves, Zürich between 2004 and 2010. Photocopied in editions of only a hundred or a hundred and fifty, and almost all long since out of print, the Nieves Zine Library includes publications by Ari Marcopoulos, Stefan Marx, Olga Prader, Mark DeLong, and many others.
Forms of Stand Up Comedy
For this project, Stand Up Comedy, Portland, has programmed a series of video documentation of lectures, presentations, and conversations conducted by other people. The topics relate to books, and are interpreted by reading, reproduction, and performance. The selections discuss artifact and style as refractive and unreliable measures, and the technique of talking about people by talking about things. Runs daily.
233 Carrall Street
V6B 2J2 Canada
Vancouver, BC
info@artspeak.ca
Tel. 604.688.0051
Tuesday – Saturday, 12-5pm
Admission is free
http://artspeak.ca/
http://fillip.ca/
http://nieves.ch/
http://www.shopstandingup.us/