Posted in
art
,
events
on May 12th, 2019 by admin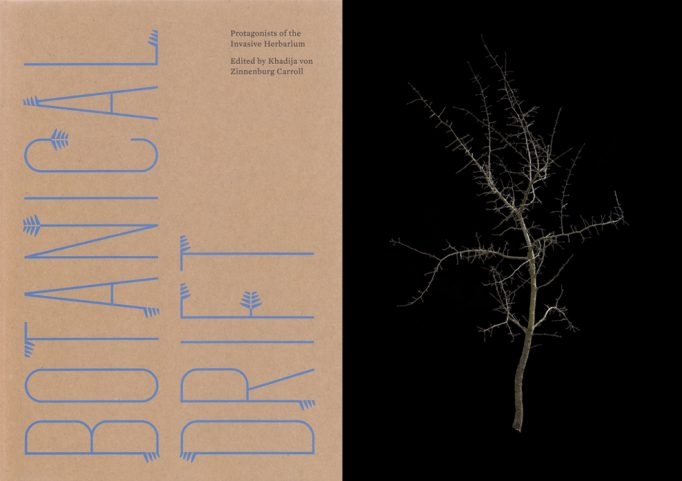 Botanical drift – Book launch/Exhibition – Motto Berlin
Saturday 18th of May from 6pm – 10pm
Exhibition runs until June 1st
Vegetal intelligence and artists working with plants has become a subject of many volumes recently. Botanical Drift has grown over the past 5 years from Kew Gardens Economic Botany collection in London, spreading out beyond. It now materialises as an exhibition at Motto and launch of the recent anthology. The exhibition features work from artists and contributors David Edward Allen, Connie Butler, Melanie Jackson, Hu Yun, and Khadija von Zinnenburg Carroll. The artist Emma Waltraud Howes' choreography is presented in a papercut work and performance. A history of the tree is philosophised by theorist Matteo Pasquinelli and the translation of The Murder of a Buttercup is introduced by author Wietske Maas.
Melanie Jackson's edition of T-Shirts based on her chapter on the Coco de Mer are available for sale.
The books are half price on this evening only – 16 Euros
The launch is accompanied by food and a bar.
18 Uhr – 22 Uhr
MOTTO BERLIN
Skalitzer Str. 68, im Hinterhof
10997 Berlin
U1 Schlesiches Tor
Botanical Drift: Protagonists of the Invasive Herbarium
Khadija von Zinnenburg Carroll (Ed.)
Contributions by David Edward Allen & Maria Buzhor, Rebecca Anderson, Bergit Arends & Sunoj D, Connie Butler & Hazel Dowling, Khadija von Zinnenburg Carroll, Caroline Cornish & Mark Nesbitt, Alfred Döblin, Natasha Eaton, Germaine Greer, Kim Berit Heppelmann, Emma Waltraud Howes, Melanie Jackson, Alana Jelinek, Philip Kerrigan, Kay Evelina Lewis-Jones, Claire Loussouarn, Wietske Maas, Natasha Myers, Matteo Pasquinelli, Raqs Media Collective, herman de vries.
Botanical Drift explores the hermeneutics, historicization, semiotics, and symbiosis of plant diversification, species cultivation, and destruction—past and present, extant and extinct—around the globe. Plant histories are explored as commodities and colonial as well as decolonial devices by significant and diverse feminist, art-historical, and anthropological voices—from Germaine Greer to herman de vries—bringing new perspectives through photo-essays, fiction, performance, and interventions in ecological, film, and translation archives. Reflecting on experimental ecology—the undiscovered, underestimated, and undesired non-European flora and fauna—it challenges perception and inspires potentialities to bring new understandings of the undergrowth of the Kew Gardens botany collection.
Design by A Practice for Everyday Life
16.7 x 23 cm, 240 pages, color and b/w ill., softcover
ISBN 978-3-95679-353-0
(Image Caption: David Edward Allen, p. betulifolia – winter 2015/16)
Deprecated
: link_pages is
deprecated
since version 2.1.0! Use wp_link_pages() instead. in
/home/clients/04badc5f584cd5c2e11ec172df35785c/web/site/wp-includes/functions.php
on line
5324