Posted in
events
on May 21st, 2012 by admin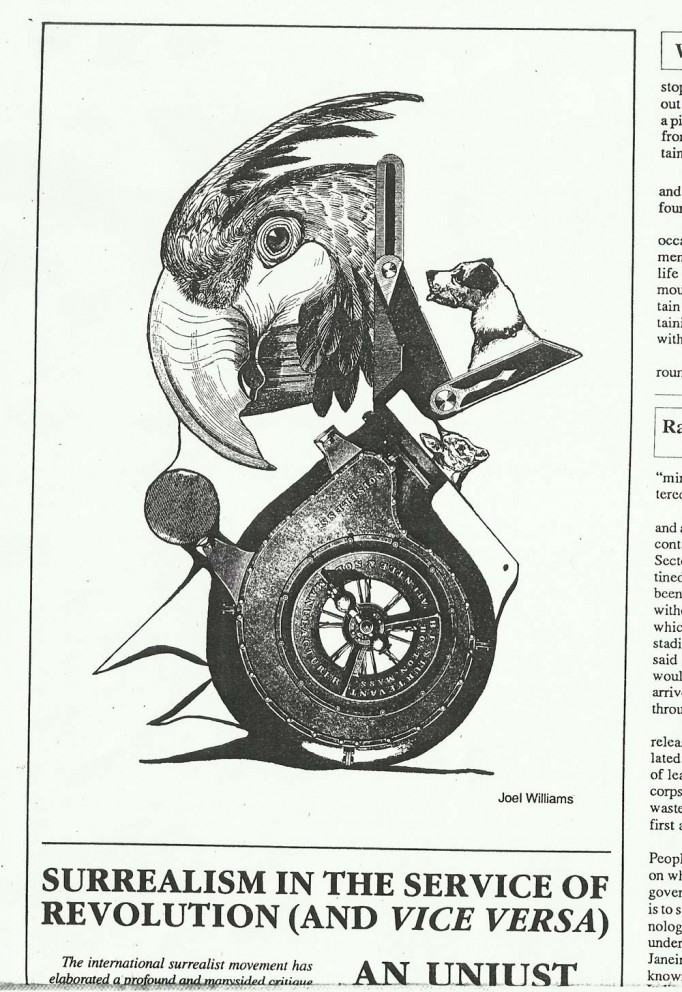 Journal of Aesthetics & Protest @ Motto Vancouver
Saturday, May 26, 2012
from 8pm
Art in the Service of Revolution (or vice versa, or neither) featuring readings from the new issue by: Jaleh Mansoor, Ron Sakolsky, and Gabriel Saloman.
Walk, with us, along the lines between aesthetic invention and revolution. Listen as three outstanding writer/historian/thinkers present, through the situations
war, discrimination, oppression, environmental destruction the blossoming of human creativity to confront that BS (or not) Gay Liberation, Palestine, Earth First, Surrealism, IWW, Radical Faeries,Pasolini and many more.
About the Writers:
Jaleh Mansoor completed her PhD at Columbia University in 2007. She has taught at SUNY Purchase, Barnard College, Columbia University, and Ohio University before coming to the University of British Columbia. Having worked on materialist abstraction in the context of Marshall Plan Italy, she is interested in complicating the discourse on abstraction, totality, universality, labor, and mere life in contemporaneity. Her areas of teaching and research include modernism, critical theory, historiography, and critical curatorial studies. She works as a critic for Artforum and is a frequent contributor to October, Texte Zur Kunst, and, more recently, The Journal of Aethestics and Protest. Mansoor wishes to occupy and dilate the relationship (and tension) between activism and scholarship.
Ron Sakolsky is a radical writer/activist whose twenty-first century books are: Surrealist Subversions ( Autonomedia, 2002 ); Creating Anarchy (Fifth Estate, 2005); Swift Winds (Eberhardt, 2009 ). Most recently, along with Andrea Langlois and Marian van der Zon, he co-edited, Islands of Resistance:Pirate Radio in Canada ( New Star, 2010). He lives on Denman Island in British Columbia where he combines writing prose, poetry and fiction with pirate radio broadcasting, deejaying community dances, creating surrealist-inspired sound collages with a trio known as Sonarchy, pitching in at a potato co-op, and involving himself in a direct action campaign against a proposed coal mine on nearby Vancouver Island.
Gabriel Mindel Saloman -is an American born artist living and working in Vancouver, BC. As a musician he has spent nearly a decade touring internationally and has released well over 50 recordings as a part of the experimental music group Yellow Swans. Simultaneously he has collaborated in a variety of relational artworks, most notably with Red76. Recent projects include the Lower Mainland Painting Co. – a group of artists researching and engaging in questions of Art, Labour and Art Labourers; and The STAG – a gallery run out of the Vancouver home of he and his partner Aja Rose Bond. Saloman is currently pursuing his MFA at SFU School for the Contemporary Arts where he is seeking to explicitly merge the trajectories of his work in Sound and Social Practices, demonstrating that the resistant potential of noise can be brought to a critical state of praxis.
About the Journal of Aesthetics & Protest
The Journal of Aesthetics & Protest is a Los Angeles and Leipzig Germany based collective. Our magazine spills out at the discursive juncture of fine art, media theory and activism. We sculpt projects that challenge hegemony's representations (of knowledge, art, activism) or which spark situations of community-based change or creation. We work collaboratively with individuals and collectives on several continents. We are interested in a fair, just, equitable, sustainable and fun world.