Posted in
art
,
Motto Berlin store
,
writing
on September 19th, 2017
Tags:
Atoll K
,
Lieven Lahaye
,
San Serriffe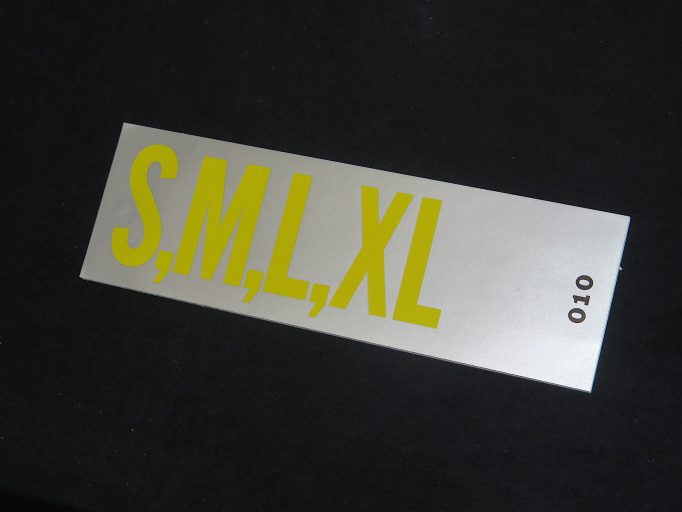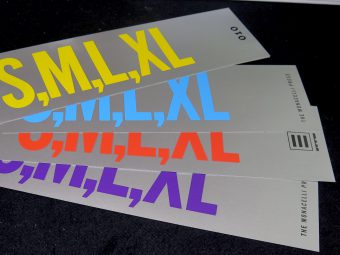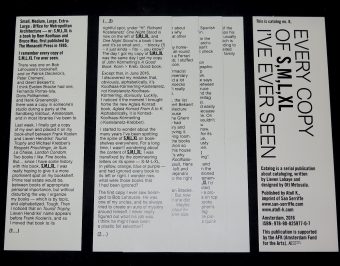 'An essay about every copy of S,M,L,XL I've ever seen, featuring plastic foil salesmen, first jobs, the letter 'K', books, bookshelves and details of where a family's passports are hidden. 'Every copy of S,M,L,XL I've ever seen' is published as a series of bumper stickers, each one depicting the spine of a different S,M,L,XL edition.'
The publication is part of "Catalog", an ongoing series of publications about cataloging, written by Lieven Lahaye and designed by Ott Metusala. This is issue #8. Previous issues have dealt with vertical organization (with a strong preference for 'the stack', as opposed to 'the pile') , functional rocks in Amsterdam, desperate measures (by way of the metric system), etc.
The making of this publication is supported by the AFK (Amsterdams Fonds voor de Kunst)
€10.00