Posted in
Uncategorized
on October 12th, 2017 by admin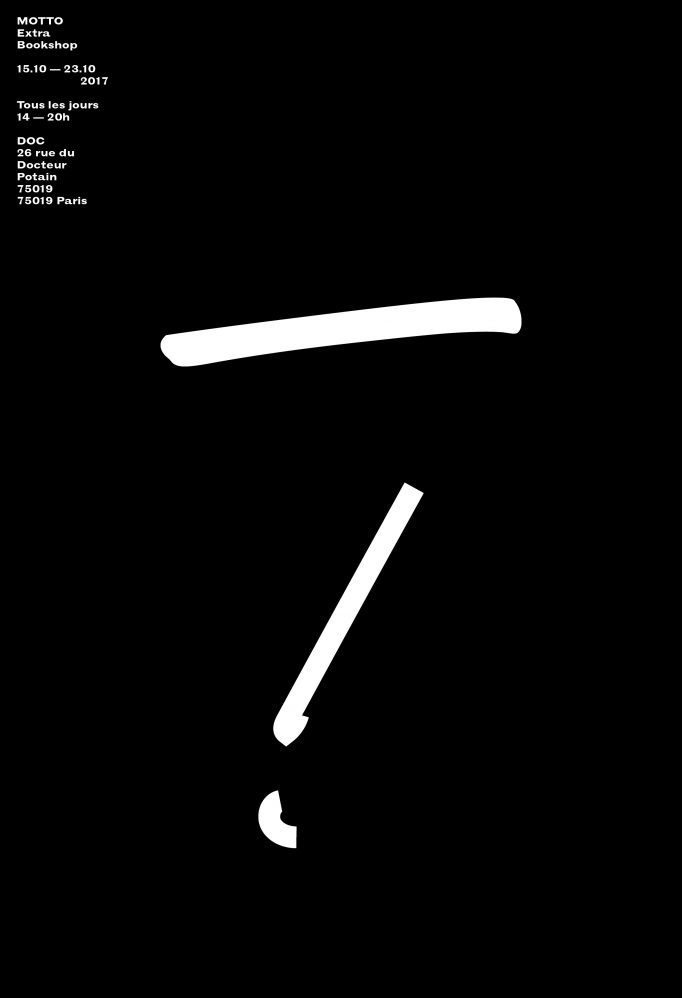 Open daily
15th — 22nd October 2017
2 — 8pm
DOC
‪26 Rue du Docteur Potain‬
75019 Paris
Motto is pleased to install a temporary bookshop at DOC Paris during FIAC. During its week of operation, the display of publications from all around the world will be accompanied by an extensive programme of events, including exhibitions, performances and concerts.
The bookstore will present a full range of backlist titles, including projects co-published with partners such as Bergen Kunsthall, CAC Geneva, ChertLuedde, Compagnia, Harun Farocki Institut, HEAD Geneva, MAO Ljubljana, Museo Fundacao Berardo, New Documents, Supportico Lopez, Terremoto, WIELS and zweikommasieben.
Next to these publications, artist's editions by Sara MacKillop, Simon Popper, Erik Steinbrecher, and Jean-Michel Wicker will also be on display.
Motto Books' main bookstore is based in Berlin-Kreuzberg, with a selection of more than 15,000 titles ranging from artist's books, design, photography, poetry and theory. In recent years, Motto's publishing activities have developed into releasing over 20 titles a year, with many books made entirely by the artists themselves.
The extra bookstore will be open daily at DOC Paris ‪from 2pm until 8pm‬, ‪from the 15th to 22nd of October‬.
Events:
Concert:
Martina Lussi (Live)
ZWEIKOMMASIEBEN DJs
‪Präsens Editionen book display
19.10.2017 6 — 10pm
Launch:
Rosie Ruiz Shortcuts to Fame
Lisa Guedel-Dolle
Motto Publishing
21.10.2017 4 — 8pm
Further programming:
http://doc.work/project_category/evenements/
Deprecated
: link_pages is
deprecated
since version 2.1.0! Use wp_link_pages() instead. in
/home/clients/04badc5f584cd5c2e11ec172df35785c/web/site/wp-includes/functions.php
on line
5324