Posted in
food
,
Motto@MarkthalleIX event
on May 12th, 2012 by admin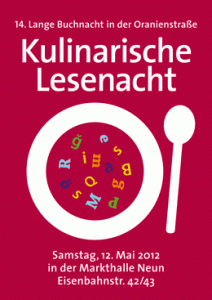 Motto @ Markthalle Neun will be open from 19:00 on tonight during the Kulinarische Lesenacht in der Markthalle Neun. Autor/innen und Journalist/innen lesen zum Thema Essen.
Eintritt frei!
Mit: Jakob Augstein, Rainer Balcerowiak, Jan Brandt, Marco Clausen, Ella Danz, Boris Demrovski, Tanja Dückers, Jakob Hein, Til Knipper, Gabi Kopp, Kreuzberg kocht, Erika Mayr, Christa Müller, Robert Shaw und weitere.
Bei der Kulinarischen Lesenacht stellen Autor/innen und Journalist/innen Texte vor, die von der Lust und dem Leid des Essen handeln, von den Freuden des Gärtnerns und Imkerns in der Stadt, von den Tücken der Fleischliebhaberei und vom Recht auf einen ordentlichen Rausch.
Von 14–16 Uhr finden Lesungen für Kinder statt.
Mit der Lesenacht beteiligen sich die Markthalle Neun und Slow Food Berlin zum ersten Mal an der Langen Buchnacht in der Oranienstraße zum 14. Mal stattfindet.
Was zu essen und trinken gibts natürlich auch: Für das leibliche Wohl sorgen an diesem Abend die Marktküche, verschiedene Marktstände und die Kreuzberger Weinhandlung Suff, die Weinhandlung des Jahres 2011 der FAZ-Kritik.
Eisenbahnstr. 42/43
10997 Berlin
www.markthalleneun.de
Deprecated
: link_pages is
deprecated
since version 2.1.0! Use wp_link_pages() instead. in
/home/clients/04badc5f584cd5c2e11ec172df35785c/web/site/wp-includes/functions.php
on line
5324