Posted in
Uncategorized
on February 20th, 2010 by admin
Tags:
Elgarafi
,
Manuel Raeder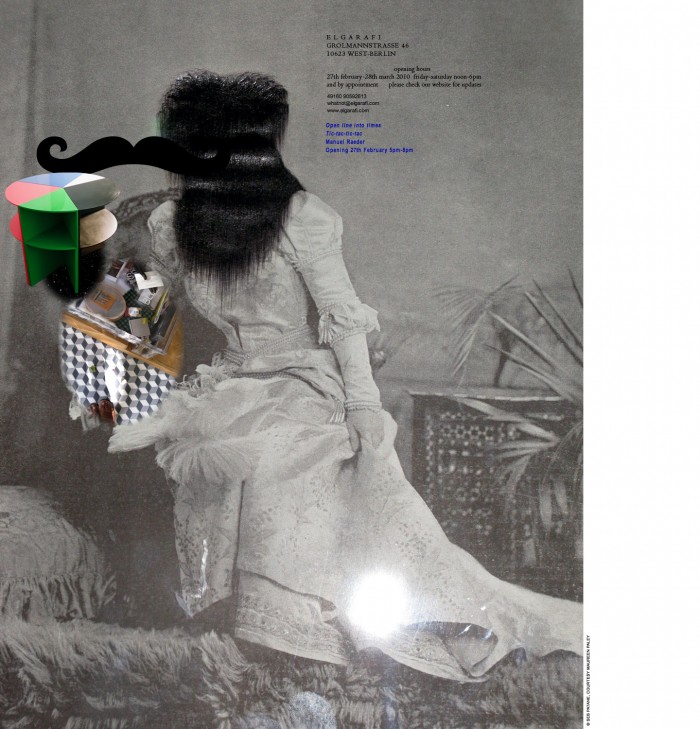 Open line into times Tic-tac-tic-tac
Manuel Raeder
The relationship between open lines (directions)
and circles (enclosures)
The relationship between time and space
The relationship between movement and position
The relationship between a ray of light and a wall
The relationship between chairs and legs
Tic-tac-tic-tac-tic-tac-tic-tac-tic-tac-tic
Ulises Carrion, "Clockwork", Amsterdam, 1987
Manuel Raeder lives and works in Berlin. His main focus lies in generating collaborations with artists, plants, scientists, parrots, fashion designers, printers, interns, librarians, curators, rappers, photocopiers, book binders, none professionals and theorists, always questioning upon the practice and reevaluating the position that humans have in relation to their objects.
His work has a wide range of formats exploring the boundaries between exhibitions, ephemera, books, type design, editing and publishing to furniture design.
For Manuel, time is not linear but can be seen as a flexible tangle. When we live things happen to us, but when we report them we make them happen. Objects and archives transform our actions. At Elgarafi he will be presenting a series of new furniture works that can be used as an archive or sitting devices. Single pages will be flying into the space, forming a limited publication.
Opening, Ferbruary 27th, 5-8pm
Elgarafi
Gorlmannstr. 46
10623 West-Berlin
Deprecated
: link_pages is
deprecated
since version 2.1.0! Use wp_link_pages() instead. in
/home/clients/04badc5f584cd5c2e11ec172df35785c/web/site/wp-includes/functions.php
on line
5326