Posted in
Uncategorized
on December 9th, 2009 by admin
Tags:
Himaa
,
Satoshi Okamoto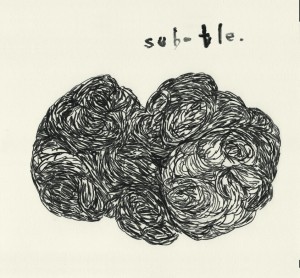 sub-tle. is a sound project by Satoshi Okamoto, who has been participating in 'la! Düsseldorf / japandorf', a project led by Klaus Dinger (ex- Kraftwerk, Neu!, la! Düsseldorf), from 2002.
They have performed the improvisational live in Germany, Belgium and Spain and have been very well received by the audiences in European countries too.
The artwork of the album sleeve is done by our favorite Japanese artist HIMAA – who will be presenting his new zine at the coming 2. Zürcher Zine Sezession event on the 13th.
Find the sub-tle. cd at the Motto Berlin store.
D €16
Deprecated
: link_pages is
deprecated
since version 2.1.0! Use wp_link_pages() instead. in
/home/clients/04badc5f584cd5c2e11ec172df35785c/web/site/wp-includes/functions.php
on line
5326