Unter dem Motto 2009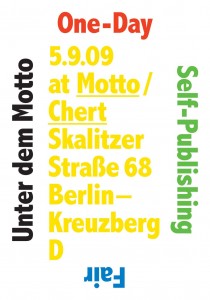 Unter dem Motto – One Day Self Publishing Fair, the first edition of an annual book fair hosted by Motto Berlin and Chert Gallery. On Saturday, September 5th 2009, 60 publishers from 18 countries (selected by Nieves, Rollo Press and Motto) presented an eclectic overview of contemporary autonomous publishing, from home-printed zines to publications by renowned institutions.
Unter dem Motto was organized in parallel to the presentation of the newly acquired exhibition Kiosk – Modes of multiplication at Staatliche Kunstbibliothek Berlin, as well as the art book fair Miss Read, organized by KW Institute for Contemporary Art, September 4th-6th.
Currently the 2010 edition of the fair is being planned.
Featured publishers at Unter dem Motto 2009:
4478 Zine, Erik van der Weijde (NL)
Archive Books (DE/IT)
Asher Penn (US)
Back Cover (FR)
Bart de Baets (NL)
BAT Editions (FR)
Bbooks (DE)
Bedford Press (GB)
Beni Bischof (CH)
Bernhard Cella (AT)
Boa Books (CH)
Bookhorse (CH)
Cannon Magazine (NL)
Casco Office for Art, Design and Theory (NL)
Clouds (NZ)
Colophon, David Bennewith (NZ)
Dent De Leone (GB)
Dexter Sinister/DDD (US)
Dynasty Zine (GR)
Ecu Press (CA)
Edition Fink (CH)
Famicon (GB)
Faund (CH)
Fillip (CA)
For Further Information (GB)
Form Content (GB)
Fw:, Hans Gremmen (NL)
Graphic (KR)
Hassla (US)
Hello zine (DE)
Innen (HU)
Islands Fold (CA)
Jan van Eyck Academy Publications (NL)
Julia Born (CH)
Kaugummi (FR)
Kodoji Press (CH)
Larry's (CA)
May (FR)
Mieke Woestenburg (NL)
Mono.kultur (DE)
Montgomery Media (DE)
Na Kim (KR)
Nazi Knife (FR)
Nieves (CH)
Onomatopee (NL)
Orient Press (DE)
Paperback (GB)
Passenger (CH/CA)
Petunia (FR)
Piktogram (PL)
Rollo Press (CH)
Roven (FR)
Seems (US)
Serps Press (AU)
Shobo Shobo (FR)
Sister, Harsh Patel (US)
Slavs and Tatars (BE/US)
Starship (DE)
Task Newsletter (US)
The Lousy Livin' Company (DE)
The Mock (UK)
The National Grid (NZ)
The Uses of Literacy (US)
True True True (NL)
Turbo Magazine (CH)
Utrecht (JP)
Werkplaats Typogafie (NL)
Westphalie (DE)
(thank you Lukas and Hans Gremmen for the pictures!).