Unter dem Motto 2010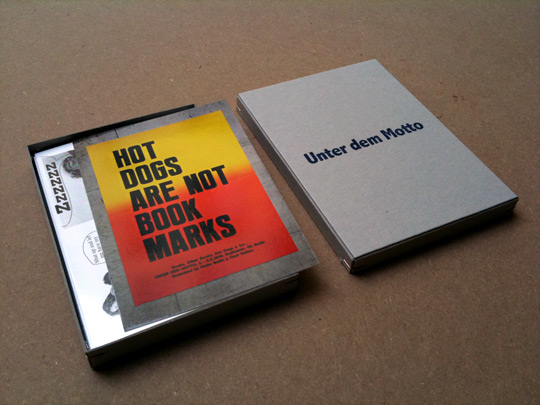 September 3-5, 2010
Second edition of the Art Book Fair, presenting 70+ publishers from all over the world
Organized by Motto Berlin & Chert Gallery
Skalitzerstrasse 68
10997 Berlin
Opening hours:
Friday 3rd: 3-7pm
Saturday 4th: 12-8pm + evening program
Sunday 5th: 12-7pm
Attending publishers:
032c, Berlin, DE
100%, New York, USA
Atlas Projectos, Lisbon, PT
Bedford Press, London, UK
Bernhard Cella, Vienna, AU
BöhmKobayashi, Düsseldorf, DE
Cneai=, Chatou, FR
der:die:das, Zürich, CH
Dynasty Zine, Athens, GR
edition fink, Zürich, CH
Ein Magazine über Orte, Berlin, DE
Faund, Lausanne, CH
Fillip, Vancouver, CA
For Further Information, London, UK
Für Immer, Zürich, DE
Fukt, Berlin, DE
FW:, Rotterdam / Amsterdam, NL
Himaa, Tokyo, JP
innen, BudapestHU
J&L Books, New York, USA
Kodoji Press, Baden, CH
Larry's, Berlin, DE / Vancouver, CA
Le Edizioni Della China, Berlin, DE
Lubok Verlag, Leipzig, DE
mono.kultur, Berlin, DE
Nieves, Zürich, CH
Occasional Papers, London, UK
Peperoni Books, Berlin, DE
Rietveld Academie, Amsterdam, NL
Rollo Press, Zürich, CH
Serps Press, Melbourne, AUS
Starship, Berlin, DE
Super Labo, Tokyo, JP
True True True, Amsterdam, NL
Werkplaats Typografie, Werkplaats, NL
Westphalie, Vienna, AU / Berlin, DE
Wilde Horses, Buenos Aires, ARG
Zulu, Los Angeles, USA
Galleries and exhibition spaces:
Artspeak, Vancouver, CA
BQ, Berlin / Cologne, DE
Daniel Buchholz, Berlin / Cologne, DE
Mehdi Chouakri, Berlin, DE
Sorcha Dallas, Glasgow, UK
De Appel, Amsterdam, NL
Eastside Projects, Birmingham, UK
FormContent, London, UK
Kominek, Berlin, DE
Wilfried Lentz, Rotterdam, NL
Massimo De Carlo, Milan, IT
Montgomery, Berlin, DE
Neu, Berlin, DE
Galleria Franco Noero, Turin, IT
Or Gallery, Vancouver, CA
Esther Schipper, DE
Witte de With, Rotterdam, NL
Collective booths – special display of publications by:
38th Street Publishers, New York, USA
4478 Zine, Natal, BR
Akademie Schloss Solitude, Stuttgart, DE
Dent de Leone, London, UK
Agma, Vienna, AU
Casco Office For Art, Design And Theory, Utrecht, NL
Criticism, Paris, FR
e-flux Journal, New York, USA / Berlin, DE
Éditions B42, Paris, FR
Four Corner Books, London, UK
Hiraku Suzuki, Tokyo, JP
The Institute of Social Hypocrisy, Paris, FR
Kaugummi, Rennes, FR
Morava Books, Poznan, PL
Mousse Publishing, Milan, IT
Noritake, Tokyo, JP
Paraguay Press, Paris, FR
PROVENCE, Lacoste, FR
Specter Press, Seoul, Korea
Special projects:
Abäke, London, UK
Asterisk, Tallinn, EE
Ooga Booga, Los Angeles, USA
Occasional Papers, London, UK
Hanne Lippard&Elisabeth Klement NOR/EE
Sam de Groot & Paul Haworth, NL/UK
Motto selection:
In addition, a selection of titles and publishers operated by Motto will be on display during the fair opening time.
On the occasion of the event, a postcard set will be produced, with contributions from:
Asher Penn, Bardhi Haliti, Bart de Baets, Erik Van Der Weijde, Florian Ludwig, Frank Koolen, Harsh Patel & Stefan Marx, Josh Smith, Julia Born & Laurenz Brunner, Julien Carreyn, Karl Holmqvist, Mark Manders, Maxwell Simmer, Olaf Nicolai, Renato Zülli, Sam de Groot & Paul Haworth, Sulki & Min Choi, Trinn Tamm, Zack Sternwalker
—
EVENTS PROGRAM – UNTER DEM MOTTO 2010
Friday 3 September
16 / 17 / 18 / 19 hrs
Åbäke: A Restricted View of Fox and His Friends, 2010
In a discussion about graphic design practices with critic Benjamin Thorel we deplored that graphic design sometimes seemed obsessed with frivolous preoccupations of style over content. We joked: "it's like watching Fassbinder's Fox and His Friends but just through the sequences happening in the printing/binding factory scenes". A little later we thought exciting to actually recut the movie and were surprised to see that the story still held. Rainer, what a star.
16.30 / 17.30 / 18.30 hrs
Hanne Lippard:
Beige, 2010
This film is about a colour, and the impact it can have on its surroundings. It is about the paler shade of pale and its variety of monotony
Reflection, 2010
A reflection can not be made until some time has passed. In this reflection you can see yourself. This reflection requires that you take one step back. Two is one too much— there is only one of you. Throw a stone in the water, and it disappears. Throw a stone at the mirror, and it breaks
18-19 hrs
Jody Barton: Black Masters. book launch and signing, Nieves booth
19 hrs: Opening party @ Miss Read, KW, Institute For Contemporary Art, with Basso and friends.
Saturday 4 September
13 / 15 / 17 hrs, open mic at 20 hrs
Eva Weinmayr with Occasional Papers — (pause) 21 scenes concerning the silence of Art in Ruins 
At regular intervals throughout the afternoon on Saturday 4 September, friends and passers-by will read passages from Eva Weinmayr's play (pause), recently published by Occasional Papers. The collective reading – in the Chino room at Motto, and broadcast live in the courtyard between Motto and Chert – forms part of a series of interventions by Weinmayr around the (temporary?) disappearance of the English art collective Art in Ruins. To date, the series includes the film "I Wonder What the Silence Was About" (concurrently presented at 'MISSREAD', KW Institute for Contemporary Art) and the publication Art in Ruins and Unknown Stranger (also published by Occasional Papers).
14 / 16 / 19 hrs
Elisabeth Klement and Hanne Lippard: "Scenery"
18 hrs
Åbäke: A Restricted View of Fox and His Friends, 2010
20.30 hrs
Civic City Cahiers 1:
Margit Mayer: Social Movements in the (Post-)Neoliberal City
Talk with Jesko Fezer, Matthias Görlich and Zak Kyes
 
The Civic City Cahiers series intends to provide material for a critical discussion about the role of design for a new social city. It publishes short monographic texts by authors who specialize in urban and design theory and practice.
Series Editors: Design2context, Jesko Fezer, Matthias Görlich
Publisher: Bedford Press, London 2010
21 hrs
Paul Haworth & Sam de Groot: The Last of the Great Romantics
22 hrs
Christian Naujoks (live)
Sunday 5 September
16 hrs
mono.klub #27: Design Talk
Bureau Mario Lombardo
NODE Berlin Oslo
mono.kultur
The Design Talk will highlight different approaches to editorial design, featuring a short presentation of mono.kultur's practice of flexible art direction by inviting different designers to guest-produce individual issues, and introductions to and by previous contributors Mario Lombardo (former art director for Spex, Liebling) and NODE Berlin Oslo (former art directors for 032c, Monopol).
 
15 / 17 hrs
Elisabeth Klement and Hanne Lippard: "Scenery"
14 / 18 hrs
Åbäke: A Restricted View of Fox and His Friends, 2010
—
In the context of Unter Dem Motto, Occasional Papers and Pro qm present:
The Body Event: Language is a Flawed Medium
David Toop and John Latham
September 3 – 18, 2010
September 5, 8pm: "John Latham Films 1960 – 1971", film presentation with an introduction by Antony Hudek
Pro qm, Almstadtstr. 48-50, 10119 Berlin
—
Unter Dem Motto 2010 takes place in conjunction with MISS READ 2010, 3-5 Sept. @ KW, Institute for Contemporary Art, Auguststr. 69, Berlin-Mitte.