Posted in
distribution
,
magazines
on February 7th, 2015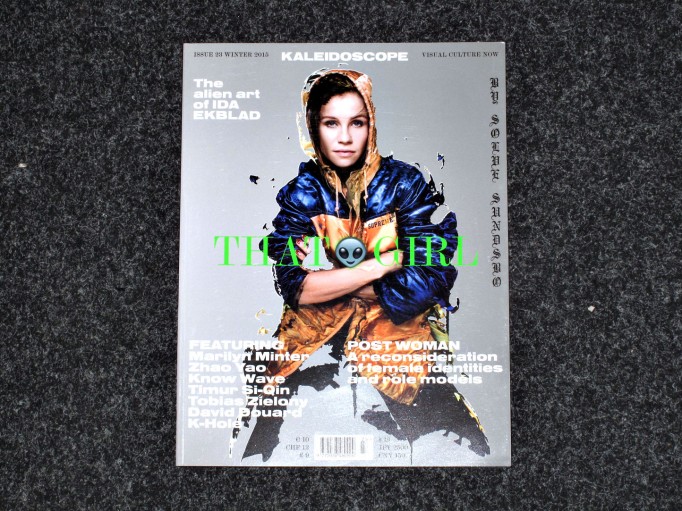 Welcome to Kaleidoscope's #23 (Winter 2015). Following the recent, successful redesign by Bureau Mirko Borsche, we are back with a brand new issue. The new formula is taking shape, new columnists and contributors are joining our ranks, and a lot of enthusiastic research went into curating the most compelling content out there.
In the opening section of HIGHLIGHTS, twelve profiles account for the best of the season: JASON MATTHEW LEE (by Alexander Shulan), DANIEL BAUMANN (by Aoife Rosenmeyer), Marilyn Minter (by Gianni Jetzer), MAGALI REUS (by Ruba Katrib), KNOW WAVE RADIO (by Alexandre Stipanovich), BEATRICE GIBSON (by George Vasey), CATHERINE AHEARN (by Tobias Czudej), K-HOLE (by Kevin McGarry), JAMIAN JULIANO-VILLANI (by Joshua Abelow), ALESSANDRO BAVA (by Francesco Garutti), ZHAO YAO (by Venus Lau), and IDEA BOOKS (by Xerxes Cook).
At a time when feminism resurges both in critical discourse and media headlines, while at the same time entering a list of words overdue to be banned, our signature MAIN THEME section is devoted to a reconsideration of female identities and role models. POST WOMAN is composed of a think tank, a think piece by Natasha Stagg and five interviews, including with Juliana Huxtable (by Andrew Durbin), Amalia Ulman (by Francesca Gavin), Judith Bernstein (by Hanne Mugaas), Massimiliano Gioni (by Pietro Rigolo), and Girls Like Us (by Felix Burrichter).
To folow, this issue's MONO section and cover story are dedicated to Norwegian artist IDA EKBLAD. Fueled by an outright marvel for this thing called art, her work is distinguished by an extreme degree of impatience and prolificness. Her shift and turns are the result of a feverish engagement with pure materiality, synthesized with popular culture and animated by alien transformations. This definitive monographic survey comprises an essay by Peter J. Amdam, an interview by Cory Arcangel and an original portrait by Sølve Sundsbø.
Later on, the VISIONS section invites the eye to an enthralling journey across almost 100 pages of visual contributions by artists, curators and image-makers, including: TOBIAS ZIELONY, "Jenny Jenny"; MR.; "Chicago": BARBARA CRANE and TONY LEWIS; DAVID DOUARD in Los Angeles; JONAS WOOD; "Alliantecnik," curated by Alessio Ascari; TIMUR SI-QIN, "Premier Machinic Funerary"; and GRAHAM LITTLE.
Lastly, the closing section of REGULARS features our insightful columns on the past, present and future of art and culture: PRODUCERS features Carson Chan's conversation with Ballistic Architecture Machine; in FUTURA 89+, Hans Ulrich Obrist and Simon Castets interview young artist Philipp Timischl; Andrey Bold questions TOKYO's art scene as part of the PANORAMA series; in PIONEERS Fredi Fischli and Niels Olsen talk to cult Swiss designers Trix and Robert Haussmann; and in the first installment of RENAISSANCE MAN, Jeffrey Deitch celebrates the art of choreographer KAROLE ARMITAGE.
Price € 10.00
Buy it
Posted in
Artist Book
,
distribution
on February 6th, 2015
Tags:
João Maria Gusmão
,
Mousse Publishing
,
Pedro Paiva
João Maria Gusmão + Pedro Paiva, with Alberto Salvadori, eds.
Texts by Mattia Denisse, Luigi Fassi, Chris Fitzpatrick, Xavier Franceschi, Massimiliano Gioni, João Maria Gusmão, Katia Mazzucco, Philippe-Alain Michaud, Olivier Michelon, Alice Motard, Pedro Paiva, Gonçalo Pena, João Ribas, Alberto Salvadori, Antonio Scoccimarro, and Marcus Steinweg
For almost 15 years now, the two Portuguese artists João Maria Gusmao + Pedro Paiva have been constructing an imaginative journey through films, photographs, installations, and sculptures that encapsulate philosophical, existential, and conceptual issues.
Produced in conclusion to a series of exhibitions—which began in 2011 with "Alien Theory" at frac île-de-france, and le plateau in Paris, by way of Museo Marino Marini in Florence, and ended with "Papagaio", 2014–15 (premiering at HangarBicocca in Milan then moving on to the Camden Arts Centre in London)—Teoria Extraterrestre is the most complete monograph to date on João Maria Gusmão + Pedro Paiva, condensing nearly four years of work and thought that have been compiled into a film cosmogony by the artists themselves.
Publisher: Mousse Publishing
Language: English (Italian and French booklets)
Pages: 256
Size: 19 x 21.7 cm
Binding: Hardcover
ISBN: 9788867491339
Price: €35.00
Posted in
Artist Book
,
distribution
,
exhibition catalogue
,
photography
on January 30th, 2015
Tags:
Ricarda Roggan
Over the past two years Ricarda Roggan collected and loaned from various museums and institutions objects which originally belonged to a key figure in the German cultural canon. She photographed them like the ceramic fish once owned by Ricarda Huch or Martin Heidegger's pocket watch. These objects remain as artefacts in collections and have no intrinsic value. They only take on historical significance when they are shown in public, suffused with an awareness of the identity of their former owners. But what will remain of an object once it has been taken down from its pedestal only to disappear again in the archives? The artist locates her photography in the gap that is created between the knowing viewer and the photographed object and asks the question: Can photography preserve and convey the original auras of these everyday objects? Apocrypha was shown in 2014 in the Echo exhibition at the Kunstverein Hannover and at the Wilhelm Hack Museum in Ludwigshafen.
28 x 21 cm + 15 x 9,7 cm
€28.00
Posted in
art
,
distribution
,
photography
on January 30th, 2015
Tags:
Alex Marashian
,
Karl Schawelka
,
Liam Gillick
,
Marcus Weisbeck
,
Mathias Schmitt
,
Michael Ott
,
Sophia Gräfe
,
spector books
Space for Visual Research. Spector Books
edited by Markus Weisbeck, Mathias Schmitt, Michael Ott
The Space for Visual Research was established at the Bauhaus-University Weimar in 2013 as a workshop and laboratory for experimental research into new graphic, abstract and visual worlds. The Space's mission is to support the exploratory urge for new aesthetics, in particular by empowering design students to create their own individual imagery. The resulting Space for Visual Research publication is a lab book, a log of visual experiments conducted using physics, chemistry, optics and reproduction technology as starting points for image production. Technical explanations open up possibilities for customized reproductions of each visual experiment presented here, while commissioned interviews and essays as well as a hand-picked bibliography render Space for Visual Research a useful reference tool for visual research generally today.
With texts by Alex Marashian, Liam Gillick, Karl Schawelka and Sophia Gräfe.
26€
Buy it
Posted in
distribution
,
magazines
on January 27th, 2015
Tags:
Verities
VERITIES Issue four introduces a refreshed larger format and is dedicated to the theme of Deception.
Highlights of this issue include, Elaine Sturtevant in conversation with Hans Ulrich Obrist, Trevor Paglen in conversation with Ossian Ward, Victor Burgin, Larry Sultan, Slavoj Zizek and The Eternal Internet Brother-
hood.
€16.00
Posted in
distribution
on January 23rd, 2015
Tags:
Ariane Müller
,
Henrik Olesen
,
Martin Ebner
,
Nikola Dietrich
,
starship
STARSHIP Nº12
128 pages, english/german
Editors: Nikola Dietrich, Ariane Müller, Martin Ebner, Henrik Olesen
Contributors to Starship Nº 12:
David Antin, Tenzing Barshee, Gerry Bibby, Hans-Christian Dany, Nikola Dietrich, Stephan Dillemuth, Francesca Drechsler, Martin Ebner, Haytham El-Wardany, Yusuf Etiman, Morgan Fisher, Jean Genet, Julian Göthe, Ulrich Heinke, Judith Hopf, Karl Holmqvist, Chris Kraus, Sam Lewitt, Mikhail Lylov, Crispin Oduor Macachia, Almut Middel, Ariane Müller, Christopher Müller, Henrik Olesen, Sam Pulitzer, Gunter Reski, Mark von Schlegell, Nora Schultz, He-Ji Shin, Mitchell Syrop, Vera Tollmann, Annette Wehrmann, Lily Wittenburg, Amelie von Wulffen, Stephanie Wurster, Florian Zeyfang
D 8€ WW 10€
Posted in
distribution
,
photography
,
writing
on January 20th, 2015
Tags:
4478zine
,
Camera Austria
,
Erik Van Der Weijde
Erik van der Weijde – Gebilde
Texts by Pierre Dourthe, Frits Gierstberg, Maren Lübbke-Tidow, Dan Rule, Erik van der Weijde, Jan Wenzel
Edition Camera Austria
96 pages
11,3 x 17 cm
€9.00
Posted in
distribution
,
magazines
,
Motto Books
,
music
on December 22nd, 2014
zweikommasieben #10 includes material with/on/by M.E.S.H., Lena Willikens, Vessel, Powell, Creme Organization's DJ TLR, The KVB, Juju & Jordash, Torn Hawk, the Golden Pudel-crew (including Ralf Köster, Nika Son & f#x), Yør, Kontra-Musik's Ulf Eriksson, and more.
zweikommasieben #10
12€
Buy it
Posted in
art
,
books
,
distribution
on December 13th, 2014
Tags:
geology
,
Julian Charrière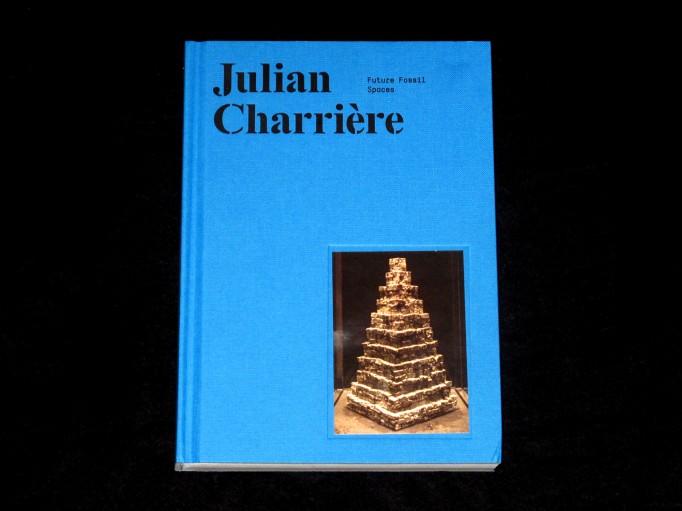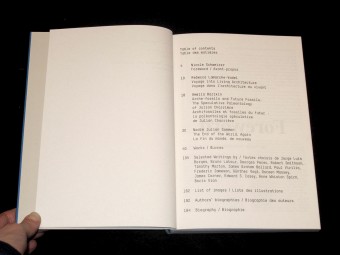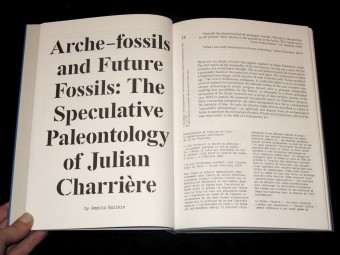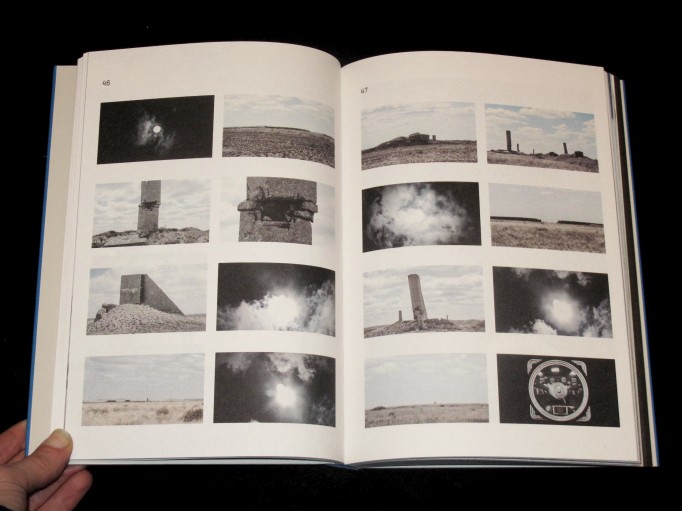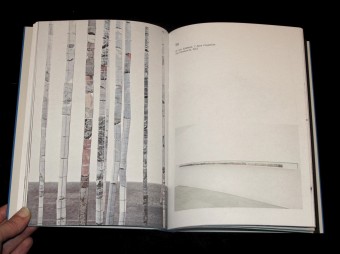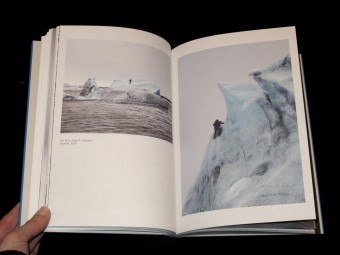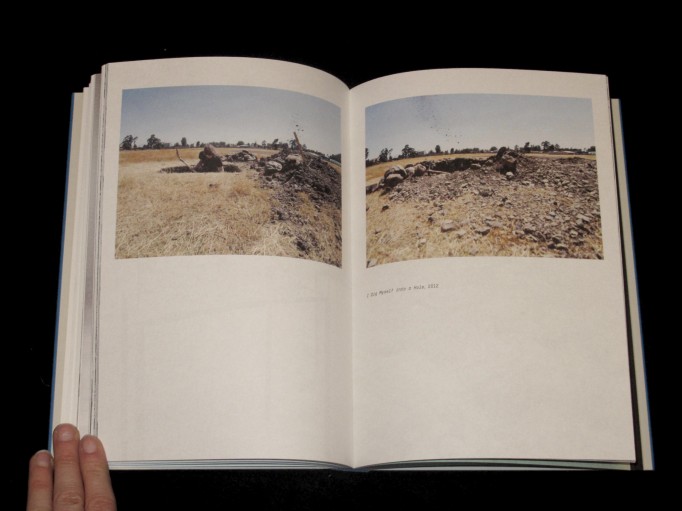 Julian Charrière: Future Fossil Spaces. Nicole Schweizer (Ed.). Mousse Publishing.
Nicole Schweizer, ed.
Texts by Amelia Barikin, Rebecca Lamarche-Vadel, Nadim Julien Samman, Nicole Schweizer
Whether creating innovative topographies of his native country and adopted homeland using bacteria in constant evolution, or Babel-like towers that are gradually coated with organic motifs obtained through decomposition of samples taken from nine great rivers of the world, Julian Charrière studies the effect of time, its relationship with space and matter, and the various ways we perceive it. What he calls "the geology of History"
"Future Fossil Spaces", the exhibition devised for the Musée cantonal des Beaux-Arts de Lausanne which is the occasion for this book, brings together works for which Julian Charrière traveled to Iceland, Kazakhstan, the Atacama Desert (Chile) and Argentina. The exhibition title evokes The Blue Fossil Entropic Stories, the result of an expedition carried out in 2013 in which the artist climbed an iceberg in the Arctic Ocean and attempted to melt the ice under his feet using a blowtorch for over eight hours. The fossils mentioned in the title do not refer to traces of animal or plant life found in rocks, but to the Latin etymology of the word, which translates literally as "obtained from digging", the action of the artist consisting therefore in proposing, in the present of the exhibition space, works that are in dialectical tension between the two arrows of time, one pointing to the past and the other towards the future.
Language: English / French
Binding: Hardcover
ISBN: 9788867491063
€ 25,00
buy it
Posted in
books
,
distribution
on December 13th, 2014
Tags:
Simon Denny
Simon Denny: New Management. Sophie von Olfers (Ed.). Mousse Publishing.
Texts by Matt Goerzen, Sam Grobart, Jinny Kim, Lee Kun-hee, Lee Won-bok
"New Management" refers to the legendary management philosophy that Lee Kun-hee, Chairman of the Samsung Group, infamously introduced in the early nineties. "The New Management" principle was first proclaimed in 1993 at a high-level executive meeting at the Kempinski Hotel Frankfurt Gravenbruch near Frankfurt am Main International Airport. Lee flew in his entire top management from around the world for a three-day conference, emphasizing the need to globalize and preparing his employees for a new philosophy of change he was going to introduce in order to turn Samsung into a global market leader in all its sectors. This seminal meeting became known within the company as the "Frankfurt Declaration." In the introduction to the publication, Simon Denny writes: "In Portikus one sees a fantastic conglomeration of material that tries to monumentalize [Samsung's] powerful cultural message; arranging imagined and remade objects around excerpts from Lee Kun-hee's texts and Samsung's history. I've tried to stay close to the context it describes: the global material language of corporate pride and presentation." In commissioning two different English translations of New Management, a publication in Korean about the philosophy and history of Chairman Lee's legacy, Denny investigates existing hierarchies. On the one hand, the material carries with it extremely specific cultural and economic meaning and value, and on the other, it forms a part of global culture and public information. The same goes for Samsung's comic version of New Management and the inclusion of Sam Grobart's article on Samsung that originally ran in Bloomberg Businessweek. Denny levels the role of the artist with those of the professional from a tech company, a journalist, an independent contractor hired through freelancer.com, and finally the viewer of the work.
Language: English
Pages: 368
Binding: Softcover
€ 38,00
buy it